In the Community
Favorite Summer Activities in the DC Area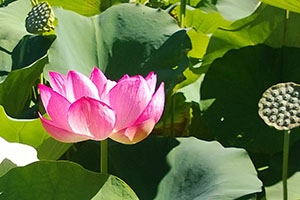 Summer has arrived in the Washington, DC, area! And with that brings a range of summertime opportunities. This could mean checking out the thousands of lotus flowers at Kenilworth Park and Aquatic Gardens, enjoying BBQ at the National Building Museum, listening to jazz in the National Gallery of Art Sculpture Garden, or taking advantage of DC museums to learn something new—and stay out of the heat. 
Interested in additional recommendations? College of Arts and Sciences faculty and staff shared some of their favorite summer pastimes.
Karl Kippola
Theatre/Musical Theatre Professor
My summer will begin by playing Brutus in Julius Caesar and Malvolio in a musical version of 12th Night at the Virginia Shakespeare Festival in Williamsburg (June 25-July 20). After that is finished, I can enjoy the numerous summer theatre opportunities in the DC area. I love the Capital Fringe Festival (July 10-27), which presents an enormous spectrum of new work—tending toward the cutting edge, avant garde, or downright bizarre. The Page-to-Stage Festival at the Kennedy Center (late August, dates TBA) offers free readings of works under consideration for future seasons. I am also looking forward to the Shakespeare Theatre's Free For All (August 19-31). They are presenting The Winter's Tale, one of my favorites. (Photo courtesy of Karl Kippola.)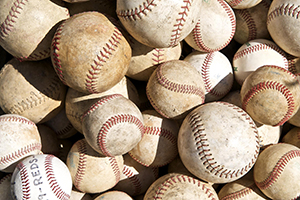 Anne L'Ecuyer
Arts Management Professor
In the category of cheap therapy, consider Rocky Gorge Batting Cages up Columbia Pike just past the T. Howard Duckett Watershed. The short drive is enough to leave the city behind, and the bat is a satisfying tool to send your worries sailing. A quick search will turn up a few other batting cages in the region, but I'm partial to Rocky Gorge, with a put-put course past its prime and the grubby goodness of the old orange cages. They have a driving range too. Open every day until 11 p.m., no appointment necessary. (Photo by Thor.)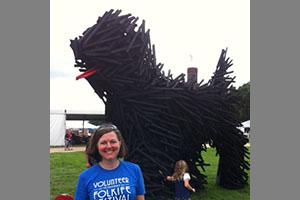 Kathy Franz
History Professor
I love the Smithsonian Folklife Festival because it's a chance to do something rare—talk to people from different cultures and communities, and learn more about their food, dress, craft, technology, and music. Yes, you can learn about these things in books, online, or even traveling, but the folklorists bring it all to you at the National Mall. It's right in our backyard, and it's an amazing cultural experience. I like it so much that I volunteered last year. Anyone can volunteer and help the folklorists document and preserve these cultural traditions for the Smithsonian collections. (Photo of Kathy Franz near a wooden Hungarian Puli at the 2013 festival.)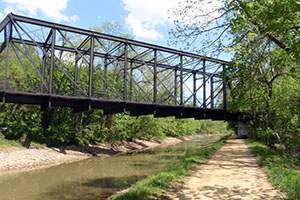 Michael Robinson
Mathematics and Statistics Professor
I discovered that bicycle riding in DC is wonderful—there are lots of fun trails in the area that are both pleasant and scenic. For instance, I recently got back from a ride from Bethesda to the Lincoln memorial on the Capital Crescent Trail. Last week, my family rode the Sligo Creek Stream Valley Trail, the Anacostia Riverwalk Trail, and others! (Photo by Daniel Lobo.)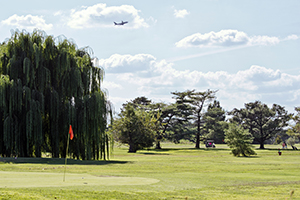 Thomas Husted
Economics Professor and Department Chair
I really like to go play some golf at the East Potomac Golf Course in DC and wish I could go more often. It allows me to get some great views of the monuments. Open year round, the East Potomac Golf Course has three courses, a driving range, and miniature golf. (Photo by Tim Evanson.)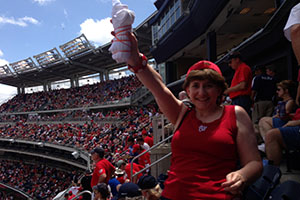 Marla Boren
Undergraduate Advising Director
Hopping on the Metro and going to National's Park to see a ballgame is definitely my favorite summer pastime. The park has great views of the Capitol, you can watch the racing presidents, and pick up some great AU wonk trivia. If you are a real fan of the game, you'll have an opportunity to see an up-and-coming team with some terrific young players: Bryce Harper, Anthony Rendon, and Stephen Strasburg. Whether you want to hang out on the red porch for happy hour and watch the game from the outfield on a Friday night, or take in a day game and enjoy a traditional hot dog on a lazy Sunday afternoon, it's a good time. If they don't win, it's a shame. (Photo courtesy of Marla Boren.)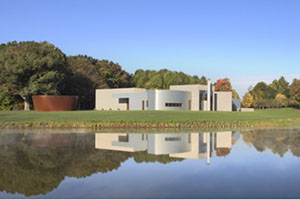 Tim Doud
Studio Art Professor
I recommend checking out Glenstone in Potomac, MD. The museum features work from the collection of Mitchell and Emily Rales, and there is a great exhibition by collaborative artists Peter Fischli and David Weiss on display this summer. The exhibition includes a tour de force piece of work that resembles a workshop/studio, but the entire room is constructed from painted styrofoam—it takes a moment to realize that you are looking at art. Overall, the artists' practice is broad and sometimes very humorous. 
The museum is private, so you have to call ahead and make reservations. They allow only small groups into the museum, which is a real benefit, and you will be shown the exhibition spaces by a knowledgeable guide. The museum recently acquired a living piece by Jeff Koons, it should be blooming by now (It is an enormous cartoon-head topiary). There are several pieces on the road to the museum, one by Charles Ray near the entry gate—including a toy tractor that looks plastic, but it's actually several tons of steel—and several enormous Richard Serra sculptures. The museum is located in a beautiful area, it is a nice drive to get there, and it is free! (Photo by Scott Frances.)