Business
Dual Degree Prepared James Cramer for Career in International Trade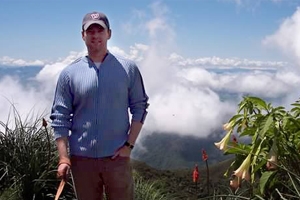 James Cramer's career has been the perfect partnership between business and development, at home and abroad.
Cramer, BA/SIS '99, MA/MBA '02, believes international development and business go hand-in-hand when it comes to improving lives in fiscally developing regions.
"The best thing…anyone can do is create an enabling environment for business in every country," he said. "If we can streamline the process of starting a business, make it easier for people to get a job, then we'll be on to something."
International Interest
It's easy for Cramer to trace his interest in international development and policy. He spent his childhood living in Dubai because of his father's career. Now when he travels to the UAE on business as an international trade specialist for the U.S. Department of Commerce's Office of the Middle East, he can revisit his old elementary school.
"The Dubai of my childhood is nothing like the Dubai of now," he said. "Back then there was only camels and sand; it's incredible to see how much it's grown and developed."
Traveling the globe for the better part of a decade, Cramer has seen public and private interests cooperate so that regions can develop and move forward.
He spent two years in Brazil promoting international trade in one of the Commerce Department's busiest commercial hubs. From there he went to Israel, where he oversaw trade development operations in Tel Aviv and the West Bank for another two years before returning to D.C.
While he remembers the beautiful and fading architecture of the West Bank and the pleasant weather of Sao Paolo, what Cramer really took away from his foreign postings were the relationships he built.
"Travel enough and all the places you've seen start to blend together," he said. "It's really the people that stand out in memory."
Combining Theoretical and Practical
Cramer's work connects projects in the public and private sectors through economic development plans and trade policy negotiations on a regular basis.
From Africa to the Middle East, partnerships are being built and that's where Cramer sees the future of business heading.
"Whether it's in the UAE or Africa, we're all trying to figure out how to develop better business," Cramer said. "How can private companies and NGOs and the public sector work together so we all benefit?"
The answer, Cramer thinks, lies in creating an environment where business can flourish, creating jobs and opportunities for all, marrying social and economic development.
"It's almost become cliché to say 'trade, not aid' for most of the places I've worked but that doesn't make it less important to build these networks," Cramer said.
Cramer credits the combination of the theoretical lessons he learned at SIS and the tangible skills he took away from Kogod for his career success.
"My SIS professors taught me how to read between the lines [of policy negotiation and development], but it was my Kogod professors who taught me how the lines work."
Making a Home
While he still travels to the UAE at least twice a year in his current position at the Commerce Department, Cramer resigned his Foreign Service position in 2010 and moved back to the D.C. region with his wife and two young daughters.
"My wife and I both spent a lot of our childhoods moving around, it was great but not what we wanted for our family," he said. "We'll keep traveling but our roots are here now."
Making the move back stateside was a tough decision, Cramer said, but it was the right one for his family and the lifestyle they want—something he thinks students should keep in mind when entering the professional world.
"It's important to take stock of yourself and figure out what you want from life and make sure that defines where and how you work," he said. "It's too easy to get the two switched in our society."