International
MBA Student Lends a Hand in Haiti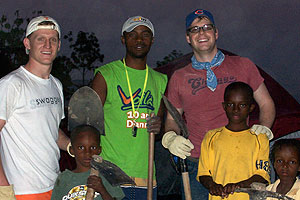 When Randy Smith, MBA '11, bought his plane ticket to Port-au-Prince, Haiti, he didn't have a plan or a place to stay. He just wanted to help.
Smith finally made contact with Pastor Serge Poteau of the Calvary Chapel days before his departure. Calvary is a church community that's formed what Smith calls the "best-run tent city in Port-au-Prince."
Smith was impressed with how effectively the members share their limited resources without any desire for recognition. "I've never been so proud of the way a church was run in a practical way," he said. 
Calvary's encampment has access to "luxuries" that are beyond the norm in the area, including a distilled water pump, a miniature health clinic, and wireless internet.
Alongside 10 others – some Haitians and some volunteers - Smith built a makeshift school for orphans in the (largely destroyed) capital city during his weeklong spring break.
A former advertising representative for Capitol Hill's Roll Call newspaper, Smith unearthed an interest in international development after a volunteer trip to a rural development in Rwanda. When he contemplated graduate school, one of the Rwandan leaders advised him that "if you want to help us, get a business degree."
Smith began Kogod's MBA program in fall 2009, and is newly accepted into a joint master's program in International Development with the School of International Service.
He's especially intrigued by faith-based development projects like the ones Calvary Chapel is undertaking in Haiti.
"[In Haiti,] I saw how churches were distributing food, water, and materials in a more structured way than the larger 'food drops' from relief organizations," Smith explained. "They streamlined their efforts by taking advantage of the natural relationships they have with their community."
As a result, Smith believes that relief efforts need to utilize the natural structures already in place to bring about effective change in the country, which is "so much worse in person than what you see on TV."
The region is still experiencing minor aftershocks from the massive January earthquake, and "it seems like most of the city is homeless." There are major sanitation issues and the rainy season is approaching, which will make living in tents even more difficult.
While Smith hopes to return to Haiti this summer, there are immediate ways to get help from the United States. Kogod's Net Impact chapter – which Smith is a part of – recently teamed up with University of Maryland students for a fundraiser that generated $700 for a well in Haiti.