Business
Don't Just Nod Along: Women in Business Conference Encourages Action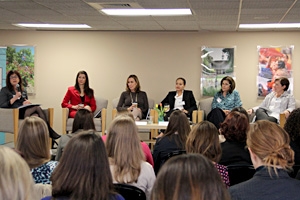 Fifty years after Betty Friedan's The Feminine Mystique was first published, women still make up less than 15 percent of corporate board members in the D.C. region. Last week's second-annual Kogod Women in Business Conference explored the challenges facing women inside and outside the board room through conversation and hands-on skill sessions.
Find A Mirror
Before a woman in the workplace can take action to be a leader, to step out, she has to have the right tools. And no tool is more important than a good mirror, according to keynote speaker Bernadine Karunaratne, BSBA '92/MBA '96 and talent management expert for Korn/Ferry International.
"You shouldn't be shaping yourself solo," said Karunaratne. "We all need to surround ourselves with people who not only support us but push us to be better and to grow."
Finding a good mirror goes a long way towards self-awareness and self-discovery, two key tools to have as a woman in business, according to Karunaratne.
"Being self-aware is at the core of being a nimble and agile worker," she said. "Truly understanding who you are and how you work are really the most important skills of all at the end of the day."
Real Conversations, Real Skills
The conference was much more than just panel discussions and keynote speeches. Attendees had the opportunity to practice real-world business skills and to have frank discussions about the challenges women face.
Skill sessions on topics ranging from "Strategic Negotiations for Women" with Kogod Assistant Professor Alexandra Mislin to "Creating Business Plans that Actually Get Financed" with Cheree Warrick, BSBA '97, provided the tools for success and the confidence to use them well.
"I think we all know that it's important to have these skills and to use them in the workplace," said attendee Abby Ransler, a giving manager at City Year. "What really made [the conference] great was actually trying out negotiation tactics and getting comfortable asking for your demands in a safe space."
Experiencing a safe space that fostered conversation was especially impactful for Kogod students.
"We've really touched on real issues that I think we all face as women but often find difficult to address, especially in business," said Kara Kozimar Holman, MBA '15. "I've really loved how open and available everyone has been to have those intimate conversations about touchy subjects."
Speaking from Experience
Highlighting the need for women to take charge of their own careers was the alumni panel comprised of women entrepreneurs and intrepreneurs. The panel of six women shared their experiences as business founders and organization leaders in a world largely dominated by men.
Gina Dennis, WCL/JD '03/MBA '05, founder and CEO of green energy compliance company Relerience, encouraged attendees to acknowledge apprehension and push forward anyway, not stopping to be afraid.
"It always seems like there is never going to be a good time [to start a business] but you just have to go for it anyway," she said. "The beginning is always going to be scary but you can get past that."
Robin Mosle, executive vice president at JBG Rosenfeld Retail, echoed Dennis's call to face fear head on and be willing to fail every once and a while.
"I'm a firm believer in everyone, not just women, needing to be willing to take a risk and experience failure every single day," she said. "I'm not saying it's easy, I had to train myself to be brave [in the workplace], but it can be done."
In keeping with the theme of the conference, learning to ignore the negative voices and go for it was the best tip Raluca Monet, MBA '04 and a director at Unisys Google Center of Excellence, had to offer.
"There will always be the naysayers, both in the real world and just inside your own head, that you just have to block out and go for it," she said. "If you have the passion for a project that gets you out of bed in the morning then you'll find the courage to follow it."