Walk into a Library Tour/Class/Workshop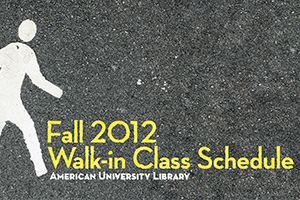 New or returning undergraduates and graduate students can get the semester off to a good start with walk-in classes that to make research papers and other projects successful. No reservations are needed for the library's free tours and classes about research. Just show up at the Reference Desk on the first floor at the announced class times. You can take a tour of the library, learn research basics, improve your existing research skills, make citing sources easier, discover primary sources, and more. 
If you are planning to make media productions of your own, you can plan to attend one of many free sessions in the New Media Center. Photoshop, Final Cut Pro, iMovie, podcasting, and GarageBand are just some of the skills you can acquire in workshops offered throughout the semester. Many workshops are offered at both the basic and intermediate levels.