International
Pepe Has the Floor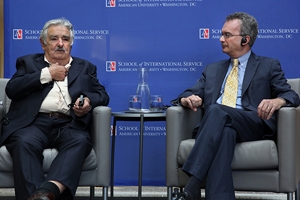 Classes may be over, but there was still an aura of excitement surrounding the School of International Service atrium on Tuesday, May 13. That's because of a visit from José Mujica, the charismatic, blunt-spoken president of Uruguay.
José "Pepe" Mujica lived a fascinating life even before entering government, serving a 14-year prison term related to his involvement with a guerilla group. He later got into politics and was elected president in 2009. Since then, he's drawn worldwide media attention for donating most of his salary to charity and for his austere living accommodations on a flower farm. He's been visited by Hollywood celebrities, and his rock star status was figuratively cemented when Aerosmith gave him a signed electric guitar.
Yet it's his progressive policies that have generated the most attention, garnering plaudits from social liberals throughout the Western Hemisphere. He signed a law legalizing same-sex marriage, and he approved a legal, regulated marketplace for marijuana. Before a bilateral meeting this week, President Barack Obama called Mujica a leader on democracy and human rights.
Mujica took questions from the audience, with SIS Dean James Goldgeier moderating the discussion. Along with SIS, the event was co-sponsored by a number of American University schools and centers. The Embassy of Uruguay and the Washington Office on Latin America also co-sponsored.
Goldgeier opened up with a reference to Mujica's recent comments to Obama about the harmful effects of smoking. "Welcome to our smoke-free and tobacco-free campus here at American University!" he said to laughter and applause.
Striving for Democracy
During his introductory remarks, University Chaplain Joseph Eldridge praised Mujica's idealism and passion by paraphrasing Don Quixote: "President Mujica sees life not as it is, but as it should be."
Goldgeier asked Mujica about his country's role in democracy promotion in the region. "We have learned in South America that democracy is not perfect," Mujica said. "There is a democracy we need to fight for. We need to improve it today, here and everywhere. We all haven't reached the last echelon of human history."
During his answer, he pivoted to explain his support for gay marriage. "What we did was accept reality," he said. "We have decided to get less complicated and to accept people as they are, without wanting to impose on them the way that we think they should be. That is democracy."
Issues, Outlook
In taking questions from the audience, Mujica was open and expansive. He usually framed his answers within the context of his overall political philosophy.
At one point while discussing peace and conflict, he directly challenged students to think about the ramifications of globalization. "We are creating a global type of culture which you are a part of," he said, predicting that the entire world will be bilingual in the next three or four decades. He noted the need for world governance to tackle a growing list of international problems, including climate change. "There's an objective trend towards globalization, but what's failing is politics and polity."
In response to a question about guerilla groups involved in drug trafficking, Mujica elucidated his reasons for implementing drug policy reform. "What we were doing so far, the only thing it was useful for was to put people in jail," he said. "Now we're trying to rationally seek out another way, to take away the business from drug trafficking."
By using traditional punitive measures for drug use, he said Uruguay's prison rate has tripled. "How much does a prisoner cost to society? Well, you'd fall onto your back the fortune that we are wasting. So it seemed logical to begin a review of all of these things. If this doesn't work, then we'll have to say so, honestly."
Portrait of Strength
An AU student asked Mujica how he found the strength to survive during his darkest days in prison. "Did you sometimes think that one day you were going to be president of the republic?" he asked. "No, my friend, no," Mujica answered. "We were no heroes. We were young guys, like any one of you."
The president then became philosophical. "Life is a permanent struggle. To live is to stand up again and have the courage to start anew," he said. "I would not be who I am had I not lived under those circumstances."
Mujica tied his prison experience to a larger struggle for a just world. "There's never going to be a better world if we're not capable to fight and become better ourselves," he said.
Following the event, AU graduate student Matt Smither shared his thoughts on Mujica. He read an article about Mujica several years ago, and he's had an interest in him ever since. "I love the social reforms, particularly. It's a grand social experiment," he said. In person, Mujica lived up to Smither's expectations. "He speaks with passion and clarity and vision. He's something like a guru, and something like a political pragmatist."