Business
What to Know as You Start at Kogod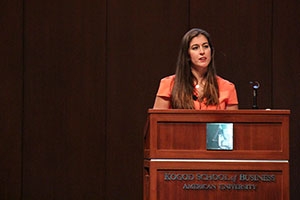 Be curious. Ask questions. Get involved.
This is just some of the advice Amanda Fuentes, BSBA '07, gave incoming freshmen and transfer students during the annual Kogod Kickoff celebration on August 22.
Fuentes, a commercial business development manager for Boots International, a global health and beauty group, emphasized the role challenging norms has played in her career.
"You will come across companies, systems, and processes that people use because they've always been there and it's what they're used to," Fuentes said. "But my professors [at Kogod] gave me the confidence to ask questions and not [always] accept 'no' as an answer."
A former scholar-athlete, Fuentes also said that students to get involved in on-campus clubs and other activities.
"[My time at Kogod] was about learning discipline and pushing myself beyond my limits," she said, inviting students to develop their own systems of time management.
In addition to running cross-country and track, Fuentes was a member of the Kogod Finance Group (now the Student Managed Investment Fund) and Alpha Kappa Psi, the business fraternity.
"Take advantage of every opportunity this great institution will offer you," she told students. "I promise you, everything you do will create every opportunity that presents itself tomorrow."
Kogod Kickoff followed a week of welcome activities for new undergraduate students, including the local business tour Capital Connections and AU's school-wide Convocation ceremony.