On Campus
Ending the Cold War: Culture, Dialogue, and Diplomacy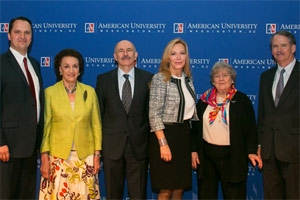 It is easy for American news consumers to imagine that our country's relationship with Russia has never been as tense as it is today. What they seem to forget is that during the 1980s there weren't even serious negative feelings between America and Russia, just a void where today's communication and cultural understanding now stands.
The frigid silence of the 1980s was the focus of a symposium held in the Katzen Arts Center on April 12, 2014. Hosted by American University's Initiative for Russian Culture, the panel featured prominent guest speakers who gave firsthand accounts of President Reagan's steps toward an understanding with the former Soviet Union.
Ambassador Selwa "Lucky" Roosevelt was the Chief of Protocol of the United States from 1982 to 1989, the longest anyone has served in that capacity. Roosevelt has received numerous awards, the most recent being a Certificate of Commendation from President Obama for her impact on the Office of Chief of Protocol and work on the renovation of Blair House, the nation's 119-room Presidential guest house. She was in charge of organizing over 1,000 visits of world leaders to the United States, and remembers the first diplomatic visits between Russia and the U.S.
"When I was asked to participate in this symposium, I had no idea that our relations with Russia would have taken a turn for the worse," says Roosevelt. "Indeed, I had just come back from a trip to St. Petersburg last May to celebrate the opening of a marvelous new opera house, where President Vladimir Putin presided at the opening."
She recalled feeling honored to have been able to witness and participate in the events leading to the end of the cold war.
"This was something I had witnessed, and participated in, and I felt that it was President Reagan and his Secretary of State George Shultz, who would always be remembered for this, their most important accomplishment," Roosevelt says. "Achieved in tandem with their opposite numbers behind Mikhail Gorbachev and Eduard Shevardnadze, they created a normalization and cordiality between our two countries which had not been seen for decades."
Suzanne Massie, author and consultant to President Reagan on Russian culture from 1984 to 1988, offered a unique view of Russia during this time, and her struggle to reconnect with a country with which she had fallen in love and from which she had been barred.
"I have always thought that countries have gender. Russia is a woman," says Massie. "This explains her great creativity, her fantasy, her capriciousness, and her fertility. Today I still think of that, because I think that we have to think that there is only one man in her life, and it's America."
Massie hasstudied the Soviet Union and Russia for 45 years, and acted as an unofficial envoy to General Secretary Gorbachev from President Reagan. She has been widely acknowledged as an interpreter of Russian culture and a bridge builder between the Russian and American people. Massie met with Reagan 21 times during the critical end of the Cold War and has written numerous books about her experiences.
"Right now I would say [Russia] is an older lady with a great and tumultuous background. The man in her life is younger; he doesn't have quite the history. He has the - well, you know how young men are. He is sometimes very insensitive, and he likes to flex his muscles. And because of the difference in their backgrounds, they often have a very hard time talking to each other. And this is really too bad."
Panelist John Evans served as the Deputy Director of the Soviet Desk in the U.S. Department of State from 1986 to 1989. He served as deputy chief of delegation to four experts' meetings of the Conference on Security and Cooperation in Europe (CSCE, now OSCE). Evans went on to serve as Deputy Chief of Mission in Prague and Consul General in St. Petersburg from 1994 to 1997. He also directed the State Department's Office of Russian Affairs from May 2002 until his appointment as U.S. Ambassador to Armenia from 2004 to 2006.
"The principles of Schultz, and Shevardnadze, and Gorbachev, and Reagan, really deserve a great deal of credit. Because they took the world to a much safer place," says Evans. "If you think of all of the horrible scenarios that could have played out, we are very fortunate that those particular individuals were in place at that time."
The final panelist to speak was Pavel R. Palazhchenko, who served as the Chief English Interpreter, participating in all U.S.-Soviet ministerial and summit meetings, for Gorbachev and Shevardnadze from 1985 to 1991. In 1996, Pennsylvania State University Press published his book, My Years with Gorbachev and Shevardnadze:The Memoir of a Soviet Interpreter, which is still in print. He recalled the tensions during a Geneva summit over the disarming of missiles - a tension that could have ended the Cold War or caused it to escalate.
"The intention of Gorbachev, if this deal did not go through, was to mount a campaign accusing the United States of not being willing to negotiate, of jeopardizing disarmament," Palazhchenko says. . At the end of the summit both men were very unhappy, because they wanted an agreement, but could not seem to come to a deal."
Palazhchenko recalls translating during the press conference that followed the failed summit.
"So what does Gorbachev do? Does [Gorbachev] go into the huge press conference and say that Reagan doesn't really want nuclear disarmament, and wants to continue the arms race, and move the arms race into space? That had been the plan. However, he decided not to do that. When he looked at the huge crowd of reporters he thought that they [Reagan and Gorbachev] had no right to say that there was no agreement, because these people had been expecting something better and they could not just tell them 'No Deal.'"
Instead, Gorbachev outlined the difficulties in their agreements in a conference that steered political relations away from nuclear escalation, and negotiations continued until both parties finally found a way to put an end to the Cold War.
Anton Fedyashin, the Executive Director of the Initiative for Russian Culture, emphasizes how important programs such as this are for students of Russian culture.
"The current diplomatic tensions over the situation in Ukraine have made our program even more important," Fedyashin says. "History allows us to understand the complexity of situations on the ground and the latent assumptions with which countries articulate their national interests. In the early 1980s, the relationship between Moscow and Washington was much worse than it is now, which makes this symposium so useful in rediscovering and acting upon common interests."
"Although there continue to be many challenges that face U.S.-Russian relations, we are no longer in the cold war era," says Susan Lehrman, the founder and chair of the Initiative for Russian Culture. "We must now find new ways to work together to bring about an era of cooperation and mutual respect, with the goal of a peaceful and successful future. I truly believe that cultural diplomacy is the best avenue to achieving these goals. Real change must come from the heart."