Journalism
Mohyeldin '01 Covers Egypt for Al Jazeera English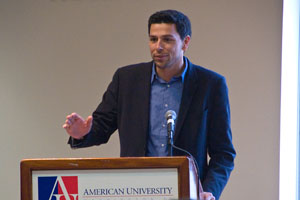 Two days after appearing on the Colbert Report, where the host's first questions were "You are a Middle Eastern correspondent for Al Jazeera English, right? Where is bin Laden?" rising network star Ayman Mohyeldin '01 returned to American University to discuss the historical events in the Arab world and his coverage of them.
"This was the first revolution to happen in the information age," he said. "We became a microphone for the protesters."
Authorities no less than Secretary of State Hillary Clinton have praised Al Jazeera English's coverage of the Egyptian revolution. At the center of the global network's coverage in Cairo was Mohyeldin, whose career began as a desk assistant at NBC News while he earned his master's degree in international peace and conflict resolution at the School of International Service.
Mohyeldin, a native Egyptian, covered the protests in Tahir Square, often scrambling to disseminate information after the government shut down access to the Internet and barred Al Jazeera from reporting in the country. He even gave a friend in Washington his Twitter password to ensure that information he reported could not be suppressed.
"Tahir Square became not only a symbol of the struggle, it became an actual part of it," he said. "We were getting calls saying 'please don't turn off your cameras because your cameras and your pictures are protecting us against the thugs.'"
Miraculously, President Hosni Mubarak resigned and power transitioned peacefully.
History will determine whether "this was a complete revolution or part coup at the end," he said. "But the fear factor for [people] of the Arab world has been broken. People want a new dynamic for their state. There's no doubt that today what spreads out across Egypt and the Arab world is a great sense of optimism."
More and more Americans are turning to Al Jazeera English to get their news from the Middle East. Although it's still hard to find on television in the United States, the network's Web traffic jumped 2,500 percent during the Egyptian crisis, with more than half that growth coming from North America.
Mohyeldin is one of the fresh young faces the network promotes. He urged students interested in journalism to learn to "think analytically," and be "skeptical."
"Success in journalism happens when the line of the individual's preparedness intersects with the line of chance," he said. "You have to work hard and be prepared."
While Mohyeldin is optimistic about the future of a democratic Egypt, he cautioned people not to paint the Arab world with broad strokes.
"You can't use a formula for all the countries of the Arab world," he said. "The fault lines are all different."
The Egyptian story was the biggest he'd ever covered, and it also was intensely personal.
"There is not a single Egyptian I have ever met who has not had his civil or political rights trampled," he said. "People are looking at the images [from Tahir Square] and they're saying, 'Wow, I didn't know Egypt had this life to it.' It was a moment of pride. I cried like a baby when Mubarak stepped down, but you didn't see me do that on the air."
Mohyeldin's visit was sponsored by IPCR and the Muslim Student Association.