International
Michael Riordon Lecture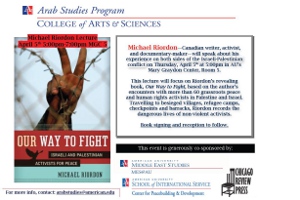 Canadian writer, activist, and documentary-maker—will speak about his experience on both sides of the Israeli-Palestinian conflict on Thursday, April 5th at 5:00pm in AU's Mary Graydon Center, Room 5.

This lecture will focus on Riordon's revealing book, Our Way to Fight, based on the author's encounters with more than 60 grassroots peace and human rights activists in Palestine and Israel.
Travelling to besieged villages, refugee camps, checkpoints and barracks, Riordon records the dangerous lives of non-violent activists.

Book signing and reception to follow.