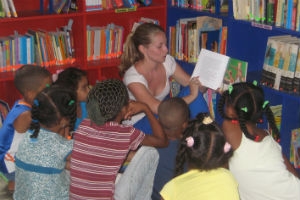 Eva Miller
RPCV Dominican Republic 2008-2010
M.S. Development Management

I was a Youth, Family and Community Development Volunteer in the Dominican Republic. During my service I implemented several projects to increase leadership, educational enrichment, and recreation opportunities for youth in my community. These projects included the formation of youth leaders to serve as community health promoters and train other youth in life skills, gender empowerment clubs and camps for girls, book clubs for youth, art classes, and a community library. After my time in the Dominican Republic, I served as a Peace Corps Response Volunteer in El Salvador. As a Response Volunteer I worked with the Salvadoran Ministry of Education to develop and implement a national volunteerism program for middle school-age youth.
I chose SIS because of the strength of its international development programs, its location, its large community of RPCVs, and its commitment to social justice. I am pursuing an M.S. in Development Management because I like the support of having a small cohort and the challenge of designing my own independent practicum. I think my experience in Peace Corps was invaluable, both to my studies at SIS and to my life. Because of Peace Corps I have a unique perspective on development issues that comes from having experienced life in a developing country.