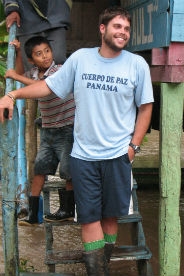 Jonathan M. Kittle
RPCV Panama 2009-2011
M.A. Global Environmental Policy

I served as an Environmental Health Volunteer in the Republic of Panamá from August 2009 to October 2011. My site was a small indigenous village called Kuite (kwee-tay), located in the Comarca Ngäbe-Buglé, an indigenous reserve found on the western side of Panamá. My main service project was the design and construction of a 2-mile long gravity flow aqueduct system to provide safe drinking water for our village. Other projects I worked on include teaching English, presenting community health presentations, creating an after-school program for kids, building latrines, and training community water committees.
The School of International Service (SIS) at American University was an ideal choice for pursuing an MA in Global Environmental Policy due to its location in Washington, D.C., the high quality of its professor's, and its curricular emphasis on preparing professionals for careers in service. This emphasis on service makes it an ideal school for RPCVs hoping to continue their tradition of service upon return to the States. My experience in Peace Corps has provided me with insights that one cannot find in textbooks. Being able to share these experiences with others, and learning from other RPCVs at SIS, has made my educational experience invaluable. I am truly fortunate to have had the opportunity to serve as a Peace Corps volunteer and to continue my passion for service while pursuing my master's degree at American University's School of International Service.