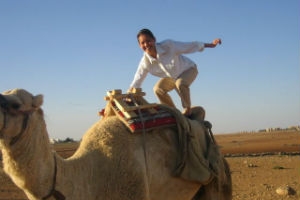 Mindy Ko
RPCV Jordan 2006-2008
M.A. International Development

I served in the Peace Corps as an English Teacher and Community Development Advisor in Jordan from 2006-2008. Working in a small Bedouin community in the northeast province of Jordan, I worked in a female school with girls from grades 6-12. During the school year, I was in charge of the English and computer courses at school. My collaboration with three other female volunteers led to the establishment of Camp GLOW (Girls Leading Our World) in Jordan, a weeklong female leadership camp. During the summers, I led environmental and health workshops for females in the community, as well as sports camps for the young girls at school.
I am currently pursuing my graduate degree in International Development and Economics with a concentration in Human Rights. My Peace Corps experience in Jordan fostered a regional interest in the Middle East and motivated me to pursue a career devoted to ensuring gender equality and basic human rights. I chose American University specifically because I fell in love with the new School of International Service building and the wonderful and engaging professors during the Open House. AU's liberal atmosphere and its dollar-coffee shop are also huge perks to the campus!
Mindy was recently published in The Hill: http://thehill.com/blogs/congress-blog/foreign-policy/272543-crisis-in-syria-calls-for-obamas-leadership