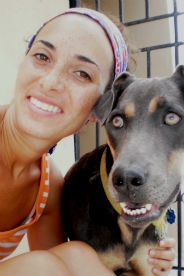 Shannon Alston
RPCV Dominican Republic 2009-2012
M.A. International Peace and Conflict Resolution

I served as a Peace Corps Volunteer in the Dominican Republic from 2009-2012, focusing on youth rehabilitation at the Boys Youth Detention Center. I worked on initiatives to promote progress and positive change in the youth prison including the creation of a Reintegration Manual for the boys to help them readjust to life outside of prison upon their release. In addition, I was a Co-Chair of the Medical Mission Committee, which organized over ten medical missions each year. One of the largest medical mission in the country called Medical Aid for Children of Latin America visited the country twice a year; the mission performed surgeries on children and adults with cleft palates, cleft lips, burn reconstruction, ear reconstruction, and skin grafts.
Being a Peace Corps Volunteer, I practiced daily conflict resolution and peace skills without knowing their intricacies. It made me realize how much more I could learn about this field by attaining my masters in International Peace and Conflict Resolution; this is why I chose American University's program. In addition, I am a Peace Corps Fellow at SIS where I served with an organization focusing on preventative programs for youth who are in danger of becoming incarcerated.

I am currently in my Second year of study focusing on International Negotiations and pulling in aspects of Corporate Social Responsibility wherever possible. My Peace Corps experience has proven invaluable during class discussions and has given me a very unique perspective that I have been able to share with the AU community.