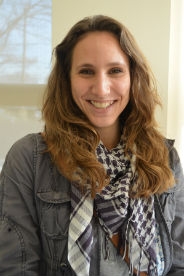 Shelby Lane
RPCV Ukraine 2009-2011
M.A. International Peace and Conflict Resolution and M.A.T. Secondary Education

I am currently a dual master's student in IPCR and Secondary Education through AU's School of Education, Teaching, and Health. I served as a Peace Corps volunteer from 2009-2011 in Chortkiv, a small town in the west of Ukraine. Although my primary assignment was as a TEFL English teacher in a local secondary school, much of my work was focused on youth development projects. I launched a town-wide youth newspaper created by and for young readers with the goal of giving youth a voice in community affairs, and coordinated training workshops on HIV/AIDS awareness, civic engagement and youth leadership, cultural and diversity awareness, environmental protection, and teaching methodology.
I attribute my choice to study both IPCR and Secondary Education to my passion for helping others and working with youth. As a Peace Corps Fellow at AU I am volunteering with Little Friends for Peace, a local organization focused on youth activism, promoting peace, and applying nonviolent conflict resolution strategies in everyday life. This experience draws on the many skills I feel I gained while in Ukraine, such as lesson planning and design, capacity building, and networking. I look forward to a career where I can help youth living in conflict to realize that change can happen, "krokza krokom"- a Ukrainian phrase meaning, step by step.