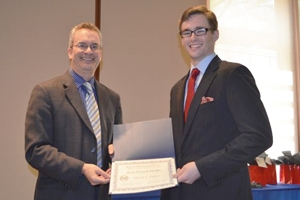 Dean James Goldgeier and David Parker, SIS/MA '13
The William C. Olson Award for Outstanding Teaching by a PhD Student: This award honors a PhD student who also teaches in SIS. It was established in 2010 in the name of William "Bill" Olson (PhD, Yale), who was SIS dean from 1979 to 1986 and, as a noted international relations scholar, made the SIS PhD program more competitive and rigorous. He also encouraged establishment in 1980 of an SIS alumni organization and a coffee house in SIS and founded in 1984 the international studies honorary noted at the end of this sheet.
The Annette Langdon Award for Outstanding Community Activism in Support of Social Justice: Annette Langdon's SIS academic achievement and community activism, including service as President of the SIS Undergraduate Cabinet, were recognized when she was named the Scotton Award winner in April 1999. Her subsequent teaching of English as a second language and engagement in programs addressing poverty and injustice in the Washington, D.C., and Denver, Colorado, areas were indicative of her activism before her untimely death in early 2008 and the creation of this award that year.
The Global Environmental Politics Award for Outstanding SIS Student Scholarship in this Field: This award was first presented in 2003 and grew out of an interdisciplinary environmental studies degree program that emerged by 1993, when SIS offered a BA in Environmental Studies with either an environmental science or environmental policy track drawing on university courses from SIS, CAS, and SPA. By the fall of 1996, SIS also offered an MA in Environmental Policy. In the fall of 2002, SIS transitioned from the BA degree program and added "global" to create a renamed combined BA/MA and a MA in Global Environmental Policy.
The Resonator Award for Outstanding SIS Spirit and Service to the SIS Community: This award was inspired when the resonator part of the muffler on SIS dean Louis Goodman's mariner blue Mazda Miata, used many years in the AU homecoming parade, fell off in the fall of 1997 and prompted establishment of the award the next year.
The Kimberly Miller Award for Outstanding Student Commitment to European Studies and Community Spirit: This award, first presented in April 1998, remembers SIS undergraduate student Kimberley Miller's love for Europe and her commitment to service before her untimely death in 1997.
The Brady Tyson Award for Excellence in Work Related to Human Rights: It was named for SIS professor Brady B. Tyson (PhD, AU) upon his retirement in 1994 after 27 years of service teaching international relations, including Latin American studies, and advocating for human rights as an activist academic, Methodist missionary in Brazil, and Carter administration diplomat. He died in 2003.
The Serif Mardin Award for Outstanding Scholarship in Islamic Studies: Islamic studies at SIS and AU were facilitated by a million dollar grant from Saudi Arabia and the establishment in 1985 of an academic chair in this field. Occupants have been Lebanese historian Yusif Ibish (1985-87), Muslim scholar Khalid Duran (1987-88), and Turkish professor Serif Mardin (1988-99). Since 2001, international authority on contemporary Islam, professor, and former Pakistani diplomat Akbar Ahmed has held the Ibn Khaldun Chair of Islamic Studies, renamed after the 13th century Tunisia-born historian, sociologist, and diplomat. Also, designation of Dr. Abdul A. Said in 1996 as Mohammed Said Farsi Chair of Islamic Peace has contributed to Islamic studies. This award was established in 1994 and renamed in 2009.
The Petra Kelly Award for the Graduating Senior Most Active in Support of Nuclear Nonproliferation, Environmental Issues, and Political Activism: German-born Petra Kelly entered SIS in 1966 (BA '70), engaged in campus life, was a student activist in anti-war, anti-nuclear, civil rights and feminist issues, and volunteered in the 1968 presidential campaigns of Senators Robert Kennedy and Hubert Humphrey. She helped found the nonviolent, ecologically-oriented German Green Party in 1979, entered the German Bundestag in 1983 and later Europe-wide institutions. She died in October 1992, and this award was established in 1994.
The Samuel L. Sharp Memorial Prize for Creative Work in International Relations at the Graduate Level: Samuel Sharp (JD, Warsaw) was a full-time AU faculty member from 1951, a member of the founding faculty of SIS, and University Professor from 1968 to his retirement in 1974. His breadth of knowledge and "astringent wit" attracted a large student following to his courses on the Soviet Union and Eastern Europe. Before joining SIS, he was a lawyer in Poland, a journalist in Europe, and worked with the Office of Strategic Services during World War II and later the International Military Tribunal at Nuremburg. Professor Sharp died in 1986, and this award was established in 1994.
The Alan Taylor Award for Excellence in Middle Eastern Studies and University Service: Professor Alan R. Taylor (PhD, Georgetown) came to SIS in 1964, taught courses and wrote on the Middle East, retired in May 1992, and died later that year. SIS established this award in his memory in 1993 to commemorate his involvement with SIS students.
The Harold Davis Award for Outstanding Scholarship in Latin American Studies: Harold E. Davis (PhD, Case Western Reserve) joined AU in 1947 as a scholar of Latin American intellectual history. Dr. Davis served as a professor in SIS and SGPA and five years as dean (1952-58) of CAS, published and lectured widely in his field, retired as University Professor of International Relations in 1973 but continued teaching, and died in 1988. This award was established in 1990 to commemorate Dr. Davis's high intellectual standards and involvement with SIS students.
The Charles H. Heimsath Award for Excellence in Style and Substance of Written Work in International Relations at the Undergraduate Level: Professor Heimsath (PhD, Yale) joined the SIS faculty in the fall of 1959, developed South Asian studies, was co-director of the Center for Asian Studies, chaired the board of the University Honors Program, served on the faculty relations committee of the university senate, and died unexpectedly in 1983. This award was first granted in 1987 to commemorate his attention to developing the writing skills of SIS undergraduates.
The Pitman B. Potter Award for Outstanding Scholarship in International Law and Organization: Pitman B. Potter (PhD, Harvard) came to AU in 1944 as an internationally recognized authority on international law and organization. He served as professor of international law and organization, dean of the AU Graduate School, and chair of the Department of International Relations and Organization, contributed to the planning of its SIS successor, retired in 1957, and died in 1981. This annual award, initially called a "medal," was established in 1960 as a tribute to Dr. Potter.
The Frank Willis Scotton Award for the Undergraduate Student Who Best Exemplifies the Ideals of Service Embodied in the Mission of the School: This award was created in the spring of 1960 by Frank Ward Scotton, SIS graduating senior, athlete, and class president, in memory of the service to his country by his father Frank Willis Scotton, who was killed in December 1944 during the Battle of the Bulge in World War II.
Inductees to Sigma Iota Rho, The Honorary Society for International Studies: SIS dean William Olson initiated an effort to expand recognition on campus and beyond of international studies as an academic discipline by establishing Sigma Iota Rho and its first chapter at AU on April 12, 1984. It was subsequently organized as a national organization in April 1987 during the annual International Studies Association meeting in Washington, D.C. SIR had 100 chapters as of 2011 and its national office at the University of Pennsylvania, Philadelphia.