International Success Story
From a Semester in Norway to a Career in International Education: Caitlin Murphy, SIS/MA '14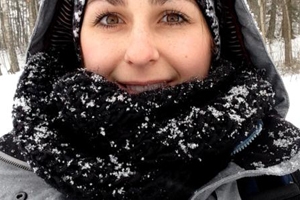 Caitlin Murphy is a recent alumna of the SIS International Communications program who spent a semester studying abroad in Norway with one of the SIS partner institutions, Norwegian University of Life Sciences. After graduation, Caitlin accepted a position at Lebanon Valley College as the Associate Director of Global Education. She now manages all international aspects at the College from international student recruitment and advising to study abroad programs. During her time as a student in the International Communication program, Caitlin focused her studies on international education.


SIS: Describe your experience abroad during your degree program at SIS

CM: I studied abroad for a semester at the University of Life Sciences (NMBU) in Norway. I worked with the SIS International Programs Office and was placed in regular graduate classes at NMBU with all the other students studying there. It was a complete immersion and I not only took classes there that were different from those at SIS, but I learned so much about the country and culture of Norway. I also was able to travel around a lot on the weekends.  

SIS: Describe the value of international education in relation to your own personal experience 

CM: International education is the most inexpensive catalyst, energizer, therapy, and mirror that anyone could ask for. The experience challenges at the onset, evokes curiosity, leads to triumph and confidence, which in turn, with some reflection, is the key to all future trials and tribulations. The power to thrive somewhere else has been jumpstarted with such an experience and that is something that students can take with them for the rest of their lives.

SIS: How did your study abroad experience influence your career aspirations?

CM: Although I have studied abroad a few times before, this experience was even more transformative than I could have imagined. I met people from all around the world, I gained more spontaneity and courage, and lastly I gained genuine empathy for circumstances I had never experienced until I was five months in Norway making sense of my early 20s and my future. While I had a sense of how to navigate trains and airplanes before, I learned much more about ferries and fjords. That may seem irrelevant, but now I know that I need to be in a place that values the great outdoors, and mountains are a must.  

SIS: What advice do you offer to a study abroad student?


CM: My advice is to do everything you can. Do the things that scare you most, for the biggest risks yield the biggest rewards. Make yourself uncomfortable in times when you can make others comfortable, and you will learn to develop meaningful friendships and lasting experiences. Do not think of study abroad as a static experience. Once you have lived somewhere else, you begin to start a life with a group of people; that doesn't have to end when it's over. Reflect, communicate, and motivate yourself to stay connected elsewhere as you continue to expand your options and your world back home.  

SIS: What specifically about your program abroad did you find helpful/useful? 

CM: My program was a taste of a completely different education system. I was not accustomed to simply hearing lectures and then taking final exams that were worth large parts of my grade. While initially I was worried and annoyed about the grading process, I realized that many other students have lived this way forever and survived. I thought, why can't I? I will be better for it in the end and I will become more adaptable in my test-taking skills, and it turned out to be beneficial in the end. It has made me more flexible and a bit more stress free. 

SIS: What were the most challenging or difficult aspects of your program and how did you overcome them? 

CM: The most challenging aspect of my program was learning to balance my budget in one of the most expensive cities of the world. Some of my favorite pastimes were difficult to fulfill because such activities were extremely expensive. However, I tried new activities and did many more things with friends in our apartment complex on campus. For example, instead of eating out we cooked in -- it was during these times that we shared cultural traditions and nuances. I practiced my language skills and laughed over foreign music or entertainment. The little moments truly make the entire experience; that is the secret.  

SIS: How beneficial do you think it is to have this program on your resume or international experience, in general? 

CM: Because of my work in international education, having a network outside of the United States is always vital. Also, because I lived with international students from all around the world, I was fortunate to make lasting connections and great friendships with these people. Now I have a little network to call on for visits, favors, advice and so on as I continue in my work.  

SIS: What kind of professional skills did you develop during your time abroad? 

CM: In Norway, I was exposed to sustainability, international development, poverty, and economics through my coursework. These frameworks are vital for my future in international education and how I will conceptualize my work. While the following are not professional skills, they have served me after my time in Norway. I learned how to cook all sorts of international foods, as I was surrounded by international students. I also learned how to cross country ski, swing dance, and improved on my Italian language speaking, oddly enough. 

SIS: How did your time abroad influence your studies at SIS or academic interests, in general? 

CM: I knew going into graduate school that I wanted to study abroad so I made sure to focus on my core courses to start. This actually made me much more focused my first year and encouraged me to take additional credits, such as Skills Institute Courses. Taking on additional work to start and allowing myself more creativity towards the end of my program truly gave me a strong foundation to grow in whatever direction I wanted to at the end of my program with elective credits and thesis work abroad.  

SIS: Would you recommend the program to your peers? 

CM: I think every SIS student SHOULD study abroad. There may only be so many chances to have such an uninterrupted time period to go and explore. Even if you have done it before, every experience, new place, and new face you make can be the difference in where you end up. As SIS students, we need to practice what we preach and get out into the world MORE.  

SIS: Does your career goal relate to you international experience? CM: I hope one day to be working abroad, in some sort of educational or training capacity. Seeing Norway has opened my eyes to a desirable country, but also a great and interesting case study to an education system that is a bit unique. 

SIS: Is there anything else that you wish to say about your experience? 

CM: My experience in Norway is still so central to not only my life but my entire essence. During my experience, I faced new life obstacles, and many roads were converging at once: saying goodbye to friends, graduation, getting a job, moving, and other relationship changes. Being in Norway at the time allowed me to think objectively and with new eyes that were not exhausted by my daily routine of who I was and where I was going. This new context truly provided a new canvas and the experiences I had and the friends I made colored this for me in ways I couldn't have imagined by the time I returned home. I am still working on this "painting" in a sense, but I think, breathe, and dream about Norway and those experiences still.  

There was a story that the Norwegian Embassy did on me during my first or second week in Norway. I also made a video -- there are no words, it is just a slideshow. Enjoy!