International Success Story
SIS Graduate Student Studies Development in Africa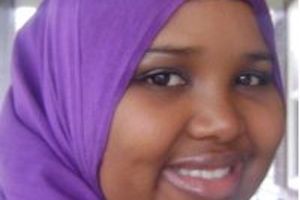 Kafia Ahmed, a second year SIS graduate student in IPCR, focusing on development in East Africa and prevention of gender-based violence, interned in Kenya this past summer and shared her experience with us:
SIS: Describe the organization you interned for and the type of work that you did.

KA: Adeso is a humanitarian and development organization that is changing the way people think about and deliver aid in Africa. It is an NGO in Africa working in a very different way than most. It believes that development must come from within, not outside African communities (i.e. Africans themselves must determine Africa's future) and that while international aid has provided much-needed support, it often falls short of enabling lasting change at the grassroots level. Adeso wants to change this by creating and utilizing strong bonds with African communities. 
I worked with many of the organization's existing projects and supported a variety of central functions during my time there. I learned a lot about the organization by doing the tasks put in front of me and spent a lot of time interacting with the other staff to plan and execute projects.

SIS: Are you still in contact with the organization? 
KA: I was mentored by the organization's Regional Communications and Advocacy Manager who I am still in touch with and currently working with to support some of the organization's projects while I am now back in D.C.  
SIS: Describe the value of international education in relation to your own personal experience.

KA: It's difficult to learn about the world without getting there and experiencing it for yourself. No one can teach you the same way that travel can. You have to get out there and see what kind of person you can become, by challenging yourself. 
SIS: What specifically about your program abroad did you find helpful/useful? 
KA: The fact that I was given real work to do and not busy 'intern' work really made it a meaningful experience for me. It showed me what I could potentially be doing if I worked there full time and taught me skills needed for future work in the field. 
SIS: How did your study abroad experience influence your career aspirations? 
KA: My internship abroad was a look inside the exact kind of work I hope to do after finishing my degree. It allowed me to experience what real life conditions are for doing important work abroad and the challenges as well as the meaningful impact that are part of it. It enabled me see another piece of the picture and how I can be a part of it one day.  
SIS: What were the most challenging or difficult aspects of your program and how did you overcome them? 
KA: My biggest challenge was not getting in my own way and allowing myself to take on tasks that scared me and rising to the challenge.
SIS: How beneficial do you think it is to have this program on your resume or international experience, in general? 
KA: I think that this experience shows that I am a good candidate for the kind of work that I want to do, it shows that I am capable and have the skills set they seek.  
SIS: What kind of professional skills did you develop during your time abroad? 
KA: Timeliness, organization, and how to ask for help when I need it.
SIS: What advice can you offer to other study abroad students? 
KA: Think about what kind of job you'd like to do when you graduate and pursue an internship with an organization that has an opportunity like that. Find the person who has that job and ask them how they got to where they are.  
SIS: How did your time abroad influence your studies at SIS or academic interests, in general? 
KA: My experience showed me that the career path I've chosen is the right one for me and that I can actually succeed and thrive in my chosen field. 
SIS: Would you recommend the program to your peers or if the internship site interested in receiving more AU students? 
KA: I would highly recommend this internship to anyone interested in East Africa and dignified development solutions. Others can reach out to me and the SIS International Programs Office if they are interested in interning with Adeso.  
SIS: Does your career goal relate to your international experience?
KA: Yes.

SIS: Is there anything else that you wish to say about your experience? 
KA: Feel free to read the blog entries I wrote while there: http://kafiainkenya.blogspot.com/