Grad Semester Programs:
Université Montpellier 1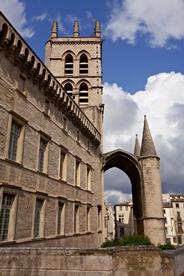 Established in 1970, the Université Montpellier 1 (UM1) is a descendant of the medieval University of Montpellier, one of France's great public universities. UM1's bilingual program in Comparative Politics and Public Policy is aimed at students wishing to broaden their conceptual horizons through contact with an international faculty and student body. The city of Montpellier, situated 15km from the shores of the Mediterranean, is a bustling university town that boasts a rich history and close proximity to numerous UNESCO World Heritage Sites and the South of France's trademark pristine beaches.
Coursework
Graduate students from AU who participate in the one-semester program enroll for a full courseload at AU (9 - 15 credits) and take courses alongside the regular degree-seeking student population at UM1. Students are required to enroll in the entire program of study offered in the fall semester, including the following seminars:

Reading Seminars (topics vary per year, but have included National Identity and Citizen Mobilization; Elites, States, and Regimes; Institutions and Public Policy)
Research Seminars
Methodology Seminar
Language Instruction (non credit-bearing)
Students who wish to submit a thesis to UM1 may do so in the spring semester to be considered for the MA in Comparative Politics and Public Policy awarded by UM1. Doing so will not impact their completion of the SIS degree. However, to complete all of the UM1 degree requirements students must be registered for 14-15 credits at AU during their semester at UM1.

Language Requirement
The UM1 program is taught in English and French. The language of instruction depends on the course and/or professor for that course. Students who wish to participate in the program must demonstrate proficiency in French at the intermediate level at the time of application and are required to submit their TOR language exam results as part of the application. Students may be able to complete their written assignments at UM1 in either French or English.

Academic Calendar
Fall semester only: September - December

Registration
Students are required to meet with their AU academic advisor and obtain formal pre-approval for the program before enrolling at UM1. This ensures that all credits earned on the Program can be applied toward the student's AU degree.
Once accepted into the Program, students are registered through the SIS Office of International Program Development for 9 - 12 credits of the AU-Montpellier Exchange (SIS-772). These exchange credits cover the Program credits only.

Tuition and Fees
Students pay regular tuition, emergency international health insurance, and technology fees to AU. Students do not pay the student activity fee, sports center fee, or SIS fee while studying at UM1.
Students are responsible for any incidental costs, such as library fines and lab fees, incurred during the program. Students are responsible for all personal expenses including housing and transportation.
Housing
TBA
Visas and Immigration
Once admitted to the Program, students are issued a letter of acceptance by UM1. Students use this document to apply for their student visa at the nearest French embassy or consulate. Students are responsible for researching the most up-to-date immigration requirements and arranging all immigration documents.
Student Orientation
During the semester prior to the start of the Program, the SIS Office of International Program Development conducts a mandatory pre-departure meeting. Topics covered include administrative, logistical, security, and cross-cultural issues. At UM1, students will be welcomed with the incoming class and provided with orientation materials.
How to Apply
Application deadline for study in Fall 2014:TBA
There is only one deadline per academic year.

Complete and submit the Program application to the SIS Office of International Program Development by the application deadline.

After applications are processed and reviewed, students are selected by SIS for nomination to UM1. 
The Program is competitive and applying does not guarantee admission.