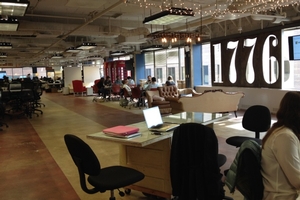 Photo by Thuy Dinh
1776 is an incubator and accelerator for entrepreneurs.
Located in an office building near the White House, it's the epicenter of Washington DC's start-up community and a key node in a worldwide network of similar facilities. 1776 provides its members with shared workspace, mentorship, connections to sponsors and capital, media attention, and talent.  Recently it has added locations near DC's Reagan National Airport and San Francisco.
American University is the first school to build a partnership with 1776. This allows Social Enterprise Masters students access to many of their events and programming as well as an opportunity to apply for reduced rate nights-and-weekends use of their facilities. Students can also sign up to use our reserved table there on selected days. 1776 gives our Program a downtown presence where we occassionally have classes, meetings, and events. Some of our professors hold office hours there too.
Learn more about them here.