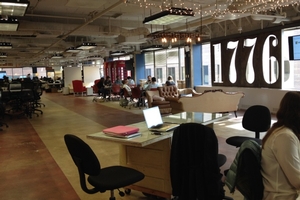 Photo by Thuy Dinh
1776 is an incubator and accelerator for entrepreneurs.
Located in an office building near the White House, it's the epicenter of Washington DC's start-up community and a key node in a worldwide network of similar facilities. 1776 provides its members with shared workspace, mentorship, connections to sponsors and capital, media attention, and talent.  
American University is the first school to build a partnership with 1776. This allows Social Enterprise Masters students access to many of their events and programming as well as an opportunity to apply for reduced rate nights-and-weekends use of their facilities. It also gives our Program a downtown presence where we may hold classes and events. Some of our professors are even planning to hold office hours there.  
Learn more about them here.