Alumni Success Story
From the Pigpen to Paris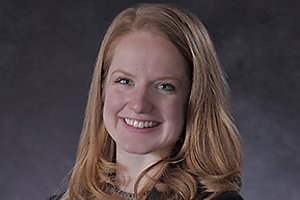 When Blair Mersinger, SIS/BA '06, MA '08, was young, raising pigs for her local 4-H program, she didn't expect that she would someday speak four foreign languages and travel to distant countries. As it turns out, the School of International Service (SIS) at American University (AU) was full of surprises. Although she was initially interested in international relations, and matriculated at AU for just that reason, she didn't realize just how much the school would broaden her horizons.
The variety of course offerings initially stoked the young woman's excitement and interest in world affairs. "One thing I like about college is that in addition to taking classes in your major, you can take classes that can get you excited about that you weren't excited about before," she enthuses.  One class, especially – Transnational Crime and Corruption – addressed the issue from a global perspective; precisely the type of class that Mersinger sought.
As much as she enjoyed her classes at AU's DC campus, they didn't quite satisfy Mersinger's impatience to get out into the world. Two opportunities to study abroad, in Kenya and Morocco, led her beyond studying at the countries' universities to roll up her sleeves and get to work.
During her time in Africa, Mersinger worked in a Kenyan orphanage, helping to procure basic supplies for the children. Most important were the required school uniforms; while the schools were free, the price of the uniforms often prevented students from attending. Through Mersinger's efforts and a $5,000 grant from AU, she and other students helped the children, from infancy to age eighteen, get what they needed to secure an education.

Her interest in the bigger picture didn't stop when she graduated with her master's in U.S. Foreign Policy. Her position with the Department of Energy keeps her looking to the world at large, from attending the International Energy Agency conference in Paris to observing possible piracy in the Middle East, and analyzing the Department's policies in other regions of the world. She's even continuing her studies in French and Bosnian (and speaks Arabic and Kiswahili to boot).  

Even more than her interest in international studies, learning to love energy took Mersinger most by surprise. "It's exciting," she admits. "[Energy] affects a lot of different areas: it affects development, economics, and even politics. I really feel like I can have an impact." And the future? Mersinger knows that her interest in energy has taken her in her life's direction. "Whether or not that means here or abroad," she speculates, "or in the public sector or the private sector…I have a lot of options."
Mersinger's surprise at the course of her career changes to gratitude when she reflects on her beginnings. "I grew up in a very small rural town, and I was part of the 4H program and raised pigs. I never imagined I would be going in this international direction at all. It definitely shaped my spirit of adventure," she notes. "I credit AU with getting me curious about international relations."