Student Success Story
"I've never taken the fact that I'm coming     here for granted."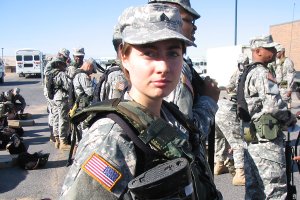 Take one look at Annie Adam, SIS/BA '10, and you see a young woman with a willing smile and easy laugh. Talk to her for five minutes, and you'll discover that beneath her cheerful nature lays unflappable determination and drive.
Part of this strength stems from a formative adult experience. Before her first year at AU, Adam served with the Pennsylvania National Guard in Kosovo. And while her position, "intelligence officer," means something specific in military lingo, it's an apt description of Adam herself. With a near-perfect GPA and wide range of interests, (she's majoring in international relations and economics), it's clear that she's a smart cookie.
The Kutztown, PA native was attracted to the military while still in high school. "We're not a military family, but I worked in my after-school job with one Marine and two people in the Army National Guard, and they were really responsible and on the ball. They would tell stories, and they made it sound awesome."
Adam admits with a laugh, "I was also kind of rebellious. People were like, 'I can't really see you in the military,' and then it became something for me to prove. I had to do it." Adam's time in the National Guard included the year in Kosovo, working with Internally Displaced Persons, and most recently coordinating the positions of other divisions' servicemen and women at January's presidential inauguration.
When she's not toting her M-16, Adam concentrates on her other passion: languages. With her Romance languages well-honed (English, French, Spanish, and German), she's shifted to Chinese, and was awarded the Gilman Scholarship to study in China. "That's the one aspect with AU that I'm really impressed with – everybody goes abroad," Adam says. "It's such a strong part of AU, and I think that's really important."
Back on campus, she even helped to found a Chinese Culture Club with her classmates, popular with both Westerners and Chinese students alike. "We had a Chinese calligraphy session, combining language and food, learning characters, and trips to Chinatown for the Chinese New Year," Adam enthuses. 

Adam's upcoming deployment to Iraq will give her a chance to experience a much more dangerous area of military life. "I've never been in a combat zone before. I expect that it'll be a lot more serious; we'll have our flak jackets and M-16s all the time."

The rising senior's pre-existing but military-refined skills also have served her well as a college student, leading her to work hard and appreciate just the fact that she's here. "The discipline you get, you're on time, you're prepared. I'm not a big procrastinator; I do my papers early," Adam notes, then pauses. "I've never taken the fact that I'm coming here for granted. AU has some amazing professors, and every time I go to class I soak up everything I can from them. If you don't, you're wasting it."

And while Adam insists that "[the military] sets you up for being a success in life," it is clear that due to her very nature, the National Guard had some impressive raw material to work with in the first place.