Student Success Story
Giving Back is his Business
By Annie Lyon, CAS/MA '03
May 6, 2009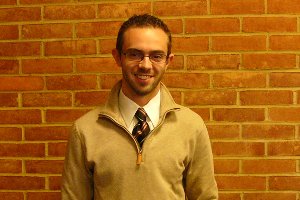 "I wish I never got tired."
Marco Puccia, SIS/BA '09, sighs and leans back in his chair. But a minute later, excited about an idea, he leans forward again and moves to the edge of his chair, talking enthusiastically.
Puccia, an International Studies and International Economics major and 2009 winner of the Annette Langdon Award for Outstanding Community Activism in Support of Social Justice, is the founder and CEO of International Transparency Solutions (ITS). He describes the organization as "designed to develop secure and transparent mediums for international investment in countries with high levels of perceived corruption." He'll move to Kenya in July 2009, to launch his company from the place where his work has been focused for years.

But how did this young man from Indiana get so involved in the issues in a place so far away in the first place?
A teacher asked Puccia's class in high school how many students could name at least five countries in Africa. "Nobody could, and it blew my mind, and as worldly as I was at the time, I couldn't do that," Puccia confesses. After that class was over, he was consumed with curiosity about Africa and its problems. While an AU student, Puccia chose a study abroad program in Nairobi, Kenya. "I looked at all the programs AU had in sub-Saharan Africa, and the Nairobi program stood out in a very stark way – it was an enclave program … one of the most unique study abroad programs out there, in any school," Puccia says. "You're not just going to another university, but you're immersed in the city. The internship component … put that program over the edge."

Puccia threw himself into his work in Kenya. He interned with the internet organization MamaMike's, which allows people to buy and send vouchers to Kenyans, redeemable at major supermarkets or for tuition, cell phone airtime, and even utility bills. "Vouchers are the way of the future; we haven't reached our full potential yet. And I said, 'That's where I come in,'" Puccia enthuses.
This excitement led him to use the same principles for his own fledgling organization. Puccia wants people to have the confidence to give securely (using Verisign or other seals of anticorruption) over a website. Technology is the driving force behind all of Puccia's projects. His latest tools are Twitter and microblogging. "I created a Facebook group for ITS. Within the first 48 hours we had 77 fans; by the end of the week it's over 110. It blows my mind," he marvels.
The young entrepreneur encourages people hesitant about giving in the down economy to put things in perspective. "Even in our hardest times here, we're living 50 times better than people around the world. You don't have to make a huge contribution. Just the smallest bit of money can have the largest impact."