Student Success Story
"It Was Going Too Great to Stop": Around the World in Four Years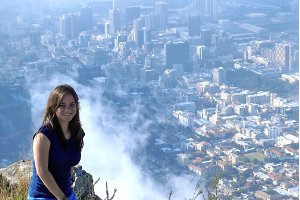 For many students, a single course or an experience changes their career goals. For Karinna Berrospi, SIS/BA/MA '10, '11, it was a family move – of about 3,500 miles, from Lima, Peru, to New York.
"Ever since I came to the U.S., the field of international studies sparked my interest," observed Berrospi. "Learning to interact in a different culture and language simply inspired me. Interacting with kids from different countries with similar experiences to mine made me want to learn from about their cultures."
This one spark dictated Berrospi's academic and career goals. 40% of SIS graduate students study abroad once, but throughout her time at SIS, and during the summer of 2011, after she graduated, Berrospi traveled to Peru, Argentina, Ethiopia, South Africa, Chile, Kenya, Rwanda, Australia, and Japan, among others.
Berrospi came to the U.S. from Peru at age eleven with her family, and later started community college in New York state, in the school's honors program. Upon transferring to AU, however, Berrospi received Frederick Douglass Scholarship and Hispanic Scholarship Fund monies, and expanded her academic interests to include international economic relations (IER), in which she eventually received her MA.
"While studying international relations (IR), I had taken multiple development courses, and I had enjoyed my economics classes. I felt economics was key to understanding IR, and I really felt I wanted to get a greater foundation on economic policy. I also was interested in pursuing a career in trade and investment, and IER sounded like the perfect fit," Berrospi said.

The combination of economics and international studies has melded together nicely in Berrospi's most recent internship, with the United Nations Economic Commission for Latin America and the Caribbean (ECLAC), and with her 2011 study abroad experience, as the first SIS student to study at the Peruvian Diplomatic Academy (PDA) in her hometown of Lima. Funding for additional research in her home country has been made possible by yet another award – a Tinker-Walker Fellowship.
"I believe conducting my research in Peru, as a Tinker Grant recipient, will be beneficial to my career path. Five years from now I envision myself working for a regional or international organization like ECLAC, where I did my internship at its Washington Office."
The career path Berrospi has in mind hearkens back to her original interest of development, economics, and international studies. "My dream became to one day help develop the economies of nations like the one country my family came from. To do so, I am following Dean Goodman's advice; [he] once said, 'Real knowledge would be acquired when we learn about other regions and are able to apply what we know to our home region.'"