Alumni Success Story
To Achieve Educational Equality in India, Alumnus Transforms Life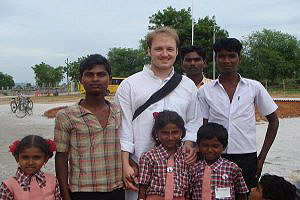 There are those who dream of breaking down racial barriers and educating for social justice, and there are those who transform their lives in order to achieve those goals. Michael Haslett, SIS/BA '05, founder of D. deVoe Foundation, is a model example of the latter.
Haslett's mission began in high school. He became involved with a local youth group, and they journeyed to India, where he visited nongovernmental organizations, travelled to local villages, and learned firsthand about educational and socioeconomic inequalities. The transformative experience led him to pursue an education that aligned more closely with his international interests. He transferred from Pace University, where he was an accounting major, to AU, where he became an international studies major at the School of International Service.
In 2004, Haslett received a grant to return to India for the summer to teach at St. Peter's English Medium School, located in the Kothapallamitta village in the Chitoor District of Andhra Pradesh. The school was founded with the mission to provide education for the Dalit, or "untouchable," children, who have historically been denied rights and education within India's caste system.
Since graduating from American University, Haslett worked in international development, at Abt Associates, Inc., and currently at InterAction. But, he never lost sight of what he really wanted to do.
Acknowledging the need for increased funding at St. Peter's, Haslett decided to launch a nonprofit organization, the D. deVoe Foundation, to raise scholarship money to fund primary education for students who would otherwise be unable to receive basic education. Even a few dollars can have an enormous impact on educating the poor, he says.
"It takes about $11 to pay for one child to get a full year of pre-kindergarten tuition, and $25 to pay for one child to get a full year of middle school education," he explains. To date, 210 children attend St. Peter's, from kindergarten through seventh grade.
This summer, Haslett is leaving his full-time job in Washington, D.C., for India, where he'll teach for the next two years. Juggling numerous different commitments can be exhausting, but Haslett's ultimate goal keeps him committed to educating these children, and actively promoting equality by collapsing the barriers that have historically led to discrimination.
St. Peter's School is "all encompassing," Hasslett explains, "Students are supported regardless of race, religion, gender, ethnicity, socio-economic status, political affiliation, or country of national origin."
In the future, he hopes to expand the course offerings available to provide education through high school. His 20-year plan includes an even bigger dream: to have schools and scholarship programs operating in multiple countries across the globe.