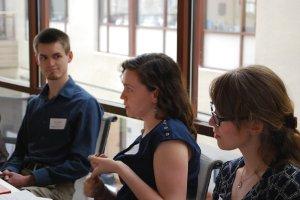 Undergraduate Research Publication Opportunities
The following is a listing of publication venues that are open to undergraduate research or, in some cases, dedicated to publishing undergraduate research. Click on the title of each publication for additional information.
The Agora: Political Science Undergraduate Journal: The Agora: Political Science Undergraduate Journal is an online peer reviewed journal that publishes scholarly work done by undergraduates in the field of political science. We have two objectives: to give undergraduate students a chance to have their scholarly work published and recognized and to involve students in the process of peer-review. The journal is published biannually. Submission deadlines are usually in early October and February for issues that are published in December and May. For more information, review the guidelines page of the.


Clocks and Clouds: the SPA undergraduate research journal is looking for students to submit articles for its first publication. All articles will be reviewed by students and faculty specializing in certain topic areas. Students and faculty are encouraged to recommend work that they believe would make a good addition to the journal. The submission deadlines for the Spring 2013 edition of the journal will be announced soon. Anyone interested in submitting an article or who has any questions should email clocksandclouds@american.edu.


Critical Theory & Social Justice Journal of Undergraduate Research (CTSJ): CTSJ is dedicated to providing a forum for undergraduate students to develop and share critical research and writing on the intersections of "race", "sexuality", and "nationality" as they relate to problems of social justice. The journal seeks to foster exchange of ideas across disciplines and deepen understandings of systems of injustice, and in this way advances the mission of Occidental College: to develop critical, thoughtful, and active participation in an increasingly pluralistic and conflict ridden global culture. Papers are accepted on a rolling basis. For submission details see the policies page of the CTSJ website.


Critique: A Worldwide Journal of Student Politics: Critique provides a forum for graduate and undergraduate students of politics to express and exchange diverse ideas and to imagine new possibilities for democracy and justice. The electronic format is published biannually and provides an alternative venue that expands political debate by creating space for the emergence of new ideas. Such a medium broadens the horizon for undergraduate and graduate publications and serves to lift typically unheard voices in academia. The editors firmly believe that budding scholars introduce valuable ideas that must be heard in order to understand the changing nature of our global community. Interested students should refer to the submissions form for submission instructions.


The Dialectics: Journal of Leadership, Politics, and Society: The Dialectics: Journal of Leadership, Politics, and Society, a refereed, multidisciplinary online journal devoted to scholarship and discourse, is currently accepting high quality essays on issues of public importance. We search for papers that have a single thesis, are focused, identify significant societal and global issues, and offer creative solutions or specific recommendations for addressing the challenges. Papers should be between 2,000 and 5,000 words and are reviewed on a rolling basis. Essays should be emailed to dialectics@psu.edu with "Dialectics Submission" in the subject line.


Ilios: Ilios is the undergraduate-run journal connected to the Political Science Undergraduate Association (PSUA) at the University of Southern California; it is primarily a journal of political science and political philosophy. Our intention is to create a forum for students to critically assess and analyze political issues—whether contemporary, historical, or theoretical in nature. The journal is also committed to welcoming all other disciplines, including (but not limited to) anthropology, sociology, history, economics, aesthetics, law, linguistics, and psychology, in helping to create a vibrant and diverse forum. The idea is to create a space for argumentation and analysis that mirrors the world around us—since all aspects of public life make their way in and out of political life, we believe our journal should be similarly open to such a flow of issues and dilemmas. Questions, comments and submissions should be sent to uscilios@gmail.com.


International Affairs Forum: The Center for International Relations (CIR) welcomes submissions, from college students and young professionals, for its online journal as well as its associated biannual publication, International Affairs Forum (published by Routledge, Taylor & Francis Group). IA Forum accepts unsolicited essays, editorials and scholarly papers for publication. Papers should be previously unpublished and should be submitted directly to editor@ia-forum.org. Please review guidelines for more information. Deadline for Spring 2015 issue is October 15, 2014.


The Journal of Arts and Humanities: The scope of the Journal focuses on theoretical and empirical research in the Arts, Humanities and Social Science. The journal welcomes the submission of manuscripts with the theoretical or empirical aspects of the following broadly defined areas: Anthropology, Communication Studies, Cultural Studies, Development Studies, Education, History, Industrial Relations, Journalism, Languages, Law, Library Science, Linguistics, Literature, Novels and Short Stories, Philosophy, Poetry, Religion, Teaching, and Visual and Performing Arts. JAH also publishes original research, creative work, and critical discourse on traditional, contemporary, and popular issues in arts and issues in the field of humanities studies. See submissions for information on how to submit work.


Journal of Democracy: a student-run journal in the Center for Democracy and Society at Georgetown University. The Journal of Democracy is seeking seeking well-written, interesting submissions of 1500-2000 words, including summaries and/or excerpts of recently completed research, new publications, and works in progress. Within the theme of Democracy, Conflict and Peace-Building, the Journal of Democracy & Society is seeking articles that address the following: Forging Democracy after Conflict, Transitional Justice, The Relationship Between Democracy and Conflict, and The Cause of Conflict. Submissions for the next issue are due Monday, November 10th, 2014. Please email submissions or questions to democracyandsociety@gmail.com. For additional information, please visit the Democracy and Society website.


Journal of International Affairs (online): JIA is published through the Columbia School of International and Public Affairs. Articles in the print edition of the Journal are typically solicited. We are, however, always on the lookout for thoughtful and well-written academic and/or journalistic pieces for JIA: Online. Online essay submissions must be 2,000 words or less. Photo essays, letters to the editors, and opinion pieces can be anywhere from 750 to 1,500 words in length. We also welcome reviews of books, articles, and other academic reports. All submissions must be unpublished original work. Though the Journal fact-checks all submissions under consideration, you are ultimately responsible for the veracity of your statements. Journal citation format adheres to the Chicago Manual of Style, 16th edition. And please include a short bio along with your submission. Send to: Zenobia Azeem, Online Senior Editor, at za2193@columbia.edu.


Journal of International Relations and Foreign Policy: The Journal of International Relations and Foreign Policy is an international peer-reviewed journal published by American Research Institute for Policy Development. The peer-reviewed content of the journal covers subjects and theories of interest to researchers around the world. It publishes articles on contemporary world politics and the global political economy. The journal seeks original manuscripts that provide theoretically informed empirical analyses of issues in international relations and international political economy, as well as original theoretical or conceptual analyses. The interested contributors are highly encouraged to submit their manuscripts/papers to the executive editor via e-mail at editor@aripd.org. Please indicate the name of the journal (Journal of International Relations and Foreign Policy) in the cover letter or simply put 'Journal of International Relations and Foreign Policy' in the subject box during submission via e-mail. Submission deadline for December 31, 2014 publication is October 31, 2014.


The Journal of Political Research: The Journal of Political Research publishes high-quality papers reporting original research in political science. Undergraduate and graduate students of any class or major are encouraged to submit research articles that contain original analysis rather than literature reviews. The JPR does not review manuscripts that have been submitted at other journals. Interested students should read Instructions to Contributors for information on submissions.


Journal of Politics and Society: this journal is organized and published by Columbia University and is distributed nationally. The journal features exclusively undergraduate work on political and social issues and is typically published each fall and spring. In its 23rd year of publication, Columbia University's Journal of Politics & Society (JPS) is inviting undergraduate students (current students or who have been out of school for less than one year) to submit research papers in the social sciences for publication. The Editorial Board of the Helvidius Group is seeking submissions of scholarly research from undergraduates in colleges and universities around the world. In addition, the Journal of Politics & Society will award the Peter and Katherine Tomassi Prize of $250 to the author of the article judged most worthy by the Editorial Board in conjunction with faculty at Columbia University.


Journal of Public and International Affairs: The Journal of Public and International Affairs (JPIA) is the premier student-run journal of policy studies. Now in its 23rd year of publication, JPIA is a joint  publication of the Association of Professional Schools of International Affairs (APSIA) and the Woodrow Wilson School of Public and International Affairs at Princeton University. The Journal seeks to publish both scholarly and expository articles on a diverse range of subjects, covering the areas of international affairs, development studies, and domestic policy. JPIA is an annual publication, accepting submissions from any advanced student in the field from an accredited institution. Submissions are reviewed in a blind screening process by an editorial board composed of students at Princeton and by contributing editors from the other APSIA schools.


The Journal of Science Policy and Governance: an interdisciplinary journal that seeks high-quality submissions on emerging or continuing policy debates. Current students (undergraduate or graduate) and recent graduates within three years of earning a degree (bachelors, masters, or doctoral) are eligible to submit. The Journal strives to publish articles in a timely manner to ensure that publications can be considered in the context of current policy debates. The Journal seeks to publish on a wide range of topics in a variety of ways. Below are the types of articles that can be submitted and their guidelines. The Journal of Science Policy and Governance will be accepting submissions relating to emerging topics and issues in science policy in early October 15, 2014. The Journal invites young scholars interested in publishing new ideas and research for policy-makers, planners, and managers in a variety of fields. For more information please email jofspg@gmail.com or go to our website.


Journal of Student Research: JSR is an electronic, peer-reviewed, multidisciplinary journal devoted to the rapid dissemination of current research. The aim of JSR is to familiarize student authors with the process of manuscript publication. Students aspiring to publish will receive scholarly feedback once their submission is reviewed. This feedback will not only help authors identify areas of improvement to their submission, but help them better understand the process in order to be successful at publication. The journal seeks papers that are novel, integrative, and written in a way that is accessible to a wide audience which includes an array of disciplines. Content of the journal ranges from applied research to theoretical research. In general, papers are welcomed from all topics. The deadline for manuscripts for the next edition of the Journal is January 31, 2015.


The Michigan Journal of Political Science: The Michigan Journal of Political Science is housed at the University of Michigan and is published bi-annually both in print and online. The journal invites undergraduate students from around the world to submit. Students must create an account before submitting.


Pi Sigma Alpha Undergraduate Journal of Politics: The Journal welcomes submissions from undergraduates of any class or major; Pi Sigma Alpha members are especially encouraged to submit. The journal strives to publish manuscripts of the highest quality in all areas of political science. Manuscripts must be unpublished, must include an abstract, and must be less than 35 pages double spaced. Email submissions to psajournalou@gmail.com along with name, university affiliation, and contact information. Submission deadlines are October 1 for the fall issue and February 1 for the spring issue, however manuscripts are accepted on a rolling basis.


Sigma Iota Rho Journal of International Relations: The SIR Journal of International Relations appears annually and publishes original manuscripts and research by undergraduate students from across the country. The Journal is a blind, peer-reviewed publication that maintains high standards of literary quality and seeks papers that contribute to a better understanding of international affairs. The Journal is organized and printed by the Epsilon chapter of Sigma Iota Rho at the University of Pennsylvania. The Journal seeks submissions from undergraduate students for its spring editions. Papers must be between 2,000 and 6,000 words in length. The deadline for submissions is January 9th 2015.


Student Pulse: an edited open-access academic journal that publishes the work of undergraduate and graduate students in a range of core academic disciplines, particularly the social sciences and humanities. A strong section of work in the fields of International Relations, Globalization Studies, and International Affairs is prominent within the publication. Submissions are accepted on an ongoing basis.


Sound Politicks: Sound Politicks is the official Undergraduate Journal of Political Science at the University of Pennsylvania.  It is published annually and covers a wide range of political topics. The journal is a non-profit publication and is edited and published by Penn students.  Sound Politicks accepts submissions year-round from undergraduates of any class or major.  All submissions should be double-spaced, include footnotes, and be no longer than 4,000 words in length. Submissions and all other inquiries should be e-mailed to upenn.soundpoliticks@gmail.com.


Southern California International Review (SCIR): SCIR is a global undergraduate international studies journal published biannually and funded by the School of International Relations at the University of Southern California (USC). Article topics published in the journal range from economic and political issues to cultural and social themes. Founded in 2011, the journal seeks to foster and enhance discussion between theoretical and policy-oriented research regarding significant global issues. The Southern California International Review (SCIR) is now accepting outstanding submissions for publication in our Fall 2014 issue. The Review publishes up to 5 exceptional full-length articles in every issue. For questions email scinternationalreview@gmail.com or visit the website.


Yale Review of International Studies (YRIS): YRIS is an undergraduate journal dedicated to publishing both opinion and long-form scholarship on contemporary global issues: their origins, present effects, and the future they will shape. In order to address the many questions of present international interest, the Yale Review of International Studies will seek to stimulate broad and multi-faceted debate on issues ranging from foreign policy to international trends in law, culture, and the environment. Interested students should contact YRIS at http://yris.yira.org/about.