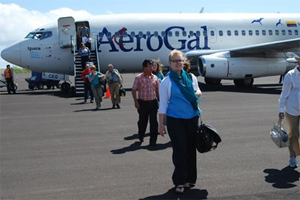 SIS Undergraduate Research Travel Grants to partially defray the costs of registration and travel are available to SIS students who are presenting work at a conference. Grants are $250 and are allocated on a first come-first served basis. Students are eligible for only one grant each academic year. If applying for summer travel, the student must be registered for undergraduate classes at AU in the subsequent fall semester. Funds are disbursed upon the submission of original receipts after the travel is completed.
To apply for an SIS Undergraduate Research Travel Grant, click here to complete the online application form. For questions and additional information, please email Dr. Aaron Boesenecker.
Students seeking support for research travel are also eligible to apply for the Undergraduate Research Travel Grant administered by the Office of the Provost in addition to the SIS Undergraduate Research Travel Grant Program.