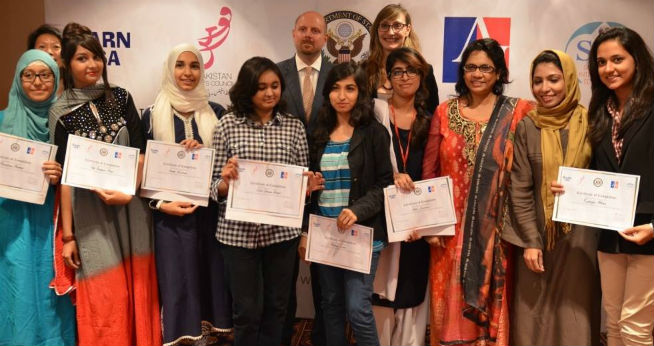 The State Department launched the US-Pakistan Women's Council in 2012 to promote women's economic participation in Pakistan.  Chaired by U.S. Ambassador-at-Large for Global Women's Issues Catherine Russell and President of American University Neil Kerwin, the Council is a public-private partnership that works to advance three critical pillars to growing women's economic participation: women's entrepreneurship, employment, and education.  Through the support of leading figures in government, the private sector, and civil society in the U.S. and Pakistan, the Council has accomplished the following initiatives:
Entrepreneurship

September 2014 - Under Council auspices, American University received a $500,000 grant from the U.S. Embassy to scale up women's businesses through a joint certificate training program to be conducted with Lahore University of Management Sciences. Faculty exchanges will promote institutional ties and learning, and online modules will multiply the impact throughout Pakistan.


June 2014 - U.S. Ambassador Richard Olson announced establishment of the WECREATE center in Islamabad. First of a worldwide network coordinated by the State Department's Economic Bureau, WECREATE/Pakistan will build women's business skills and support up to 500 new start-ups. The Secretary of State's Office of Global Women's Issues has provided $387,460 in support. Startup Cup is providing $151,000 in in-kind support and is leading implementation with The Indus Entrepreneurs (TiE) of Islamabad and the Hashoo Foundation.


July and November 2013 - The Council, the U.S. Embassy and other partners, brought female entrepreneurs and private sector leaders together in Islamabad to share strategies for success, including in the fashion and textile sector.
Employment

October 2014 - Currently, 78 percent of Pakistan's female medical degree recipients do not enter the workforce. The Council and the Association of Pakistani Physicians of North America (APPNA) are partnering with Pakistan's Higher Education Commission to offer a series of career planning webcasts and local training session for female medical students in Pakistan.

June 2014 - To promote Science, Technology, Engineering and Math (STEM) careers for women, the Council and the U.S. Embassy brought speakers and participants together with President Obama's Science Envoy to share strategies and highlight the achievements of Pakistan's female scientists at a technology conference in Islamabad.


June 2014 - The Council and the U.S. Embassy co-sponsored a "Women in the Workplace" workshop in Islamabad. Commitments included a business incubation center at Rawalpindi Chamber of Commerce; HerCareer job fairs in Islamabad and elsewhere; INJAZ business mentors for youth; a youth enterprise startup program; and Women's Bank internships.


July 2013 - The Council and Engro Corporation hosted a private sector roundtable to share best practices for recruiting female interns and employees. Pepsi, Intel, Citibank, L'Oreal and Standard Charter Bank were among the participants.
Education Initiatives

Summer 2014 - The Council and Packages Limited of Lahore launched a summer internship program for 18 students pursuing a variety of careers, from finance and engineering to business administration. The program will continue to provide 20-22 young women each year with hands-on experience, training and mentoring.

Summer 2013/14 - Thus far, the Council's U.S. Summer Sisters program administered by American University and funded by the State Department has inspired and helped equip thirteen underprivileged Pakistani high school girls to achieve their professional goals. Participants report gaining greater clarity about education and career options and strategies. American University, Babson College, George Washington University, Harvard University, Smith College and the Eleanor Roosevelt leadership Center at Vassar College each provided scholarships for their Summer Sisters participants. These partners have committed to continue, allowing twelve more girls to participate in 2015.

"Before this experience, I wanted to be a chartered accountant; but now I want to start my own business, so I may be able to provide job opportunities for women. In this way they may be able to become a part of this society in a true sense." – 2014 Summer Sister participant

The Council launched the U.S. Summer Sisters Exchange program in 2013 for female high school students to inspire and equip them with the skills needed to achieve their professional goals; six students studied in the U.S. In 2014, scholarships for seven students were provided by Harvard, Smith, American University, George Washington University, Babson College, and the Eleanor Roosevelt leadership Center at Vassar College.

Public Awareness

Through Council-sponsored events and social media, we seek to raise awareness, promote goodwill and encourage local receptivity to women's economic participation. We spotlight economic, educational and leadership achievements by women in Pakistan through our Facebook, Twitter, and Linked-In accounts. For example, our 2014 "Inspiring Women" campaign on International Women's Day rapidly escalated to 160,000 views.