Practicum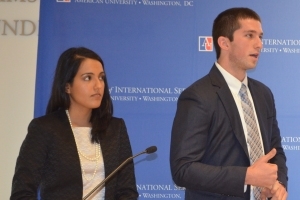 US Foreign Policy and National Security students present on their practicum.
Introduced in Fall 2012, the practicum option is designed to give second-year master's students real world experience in project management and consulting while preparing them for post-graduate careers. Students work in teams with expert clients including U.S. and international government agencies, non-profit organizations and businesses to conduct policy and program analysis. Students draw on their substantial research, as well as qualitative and quantitative skills, to prepare final oral and written analysis and recommendations. Practicum teams present their findings at the SIS-wide Practica Symposium, held at the end of each semester.
More information on the practicum option can be found on the SIS Practica Program webpage, including lists of current and past practica, as well as information about applying for practica.