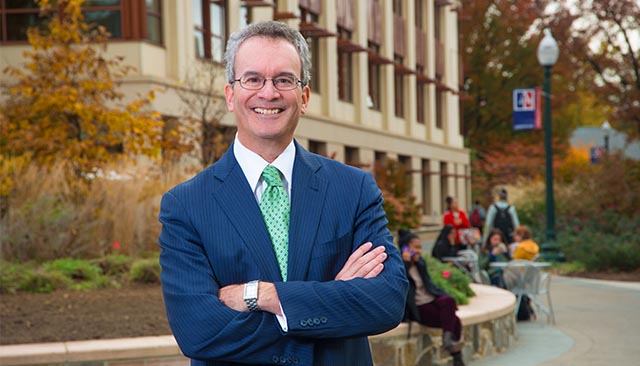 Welcome! I'm glad you are interested in learning more about the School of International Service (SIS). We are a diverse community of faculty, staff, students, and alumni dedicated to understanding and meeting global challenges. We provide unique opportunities for learning about other peoples and cultures. Our major programs of study equip emerging global leaders with cross-cultural competence, professional expertise in a specialized subject area, and strong analytical and critical thinking skills.
I'm proud of our incredible faculty, who are dedicated teachers and innovative scholars at the forefront of their research fields. Our hard-working staff ensure that students can take full advantage of all our school has to offer, including events with global leaders and robust career and academic advising. Our students create a vibrant community from across the country and around the world. And our location, a short Metro ride from the White House, nearby embassies, and agencies, puts us in close proximity to national and international decision makers.
I invite you to explore SIS through our website, and to visit me and the rest of the SIS Community, including staff, faculty, and students, on our beautiful campus in Northwest Washington, D.C. We look forward to meeting you.
James Goldgeier, Dean
School of International Service
Six months after graduation,