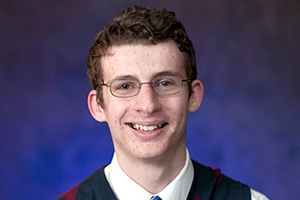 Mark Lieberman
Class of 2016
Major: Print Journalism
Minor: Sociology; Cinema Studies
Hometown: Brunswick, MD
Favorite SOC Courses:
Understanding Media with Professor Streitmatter
Leadership and First-Year Success Seminar with Jill Heitzmann and Nicole Cusick
Extracurricular Activities:
The Eagle, columnist and contributing writer
WVAU columnist
Social Media Club
Best Moments in SOC:
Visiting NBC4 and The Washington Post with my SOC Welcome Week program was one of the coolest experiences of my life. I had the opportunity to experience the workplace environment in which I hope to find myself someday, talking to journalists and broadcasters who successfully parlayed their college experience into a career. Furthermore, I met tons of awesome SOC students who shared my interests, ambitions and anxieties about attending college away from home. All this in the first week of college!
Leading a discussion about film adaptations in my Understanding Media class –a very passionate debate.
Reviewing movies in advance for The Eagle - superb firsthand experience in my dream job of film criticism.
Personal Website/Blog: