Entre la Amistad y la Guerra - by Cristina Khan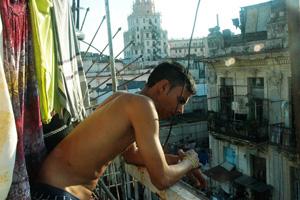 Centro Habana's street, Amistad, or friendship, displays the struggle of everyday life in Cuba in a manner that is raw, honest, and touching. Without the brightly colored tourist façade that blankets nearby Habana Vieja and Calle Obispo, Centro Habana is an almost strictly residential neighborhood with few casas particulares. Most residents living on Calle Amistad have lived on the block for their entire lives. Neighbors take care of one another; sharing the common thread of that unites all Cubans, and that is: understanding the difficulties that come along with living on an island on which one in ten people have migrated, the overpopulated residences, and the often lack of monetary resources to make up for the lack of food offered by ration books.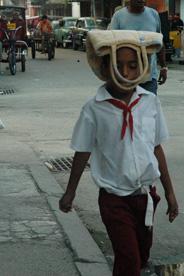 My first interaction on this street was with an older woman by the name of Celia. Celia is a much older woman living with only her youngest son in a small studio apartment. She has Alzheimer's disease and is slightly hard of hearing. During the day, she sits on an old chair in front of her home while her son roams the neighborhood to catch up with friends. Celia explained to me that her oldest son left the country 10 years ago. She knows he lives in the United States but has no idea where. Each time I went to see her, she explained to me that he is planning a return trip to Cuba sometime in the future but wants to surprise her, so he does not tell anyone when exactly he plans to return. Whenever he is brought up in conversation, her younger son seems annoyed. "Olvidate de el, el se fue, mami."  Or "Forget about him, he left, mom." Although her son is honest about his disdain for his brother, Celia still seems hopeful that he will return. This separation tends to be the case with a lot of families not just living on Calle Amistad, but all throughout Cuba. Cuba is a nation marked by separation amongst families.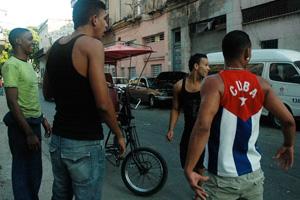 Just down the street from Celia's home is graffiti on the walls that reads perdoname, or forgive me. I happened to be in the area to see a young boy siting in a wheelchair just a few feet away from the wall as a young woman carrying a child read it. Besides the wall is a large dumpster locals frequent to find cans and bottles to exchange for money.
Calle Amistad exemplifies the Cuban sense of solidarity. Although everyone living on Calle Amistad experiences life a little differently, they all come together when purchasing food from the local agromercado, when looking after the older residents ot the block, or going to school.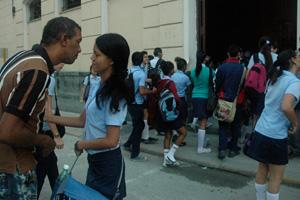 Every time I have been in the neighborhood, I have watched neighbors and friends meet for coffee outside of a small home with a cuenta propista business. Friends gather on street corners, sometimes to gossip and other times to throw piropos at girls passing by. Centro Habana is not one of the city's most high-income neighborhoods. It is evident that the living quarters for a majority of the residents of Calle Amistad are not nearly large enough for the amount of people they hold. People are always hanging out outside, in their doorways, on corners: they homes are simply not large enough for their own comfort.
Calle Amistad preserves the will of the Cuban experience: a mal tiempo, buena cara. Or to a bad time, a good face. The people of Calle Amistad endure the struggle of making sure that enough food is on their tables, that their backs are covered in clothes, and most of all, that there is enough love to make up for all the shortcomings that are sure to come.