The Self Employment Sector in Cuba: An Empty Road or A New Beginning? - by Dara Jackson-Garrett
It's a late breezy afternoon in Havana, people are busily walking home from work and school. One the corner of 17th and A in Vedado there is a woman with a gold rimmed glass case hoisted on neon orange pushcart quickly serving people various treats. Her cart is almost empty and she is selling what's left quickly. Her name is Emilia Sanchez and she is one of the thousands of Cubans who have a license to be self-employed. She begins every morning, Monday thru Friday, with a glass case full of all different kinds of sweets. She is out when the sun comes up and she doesn't go inside until her entire cart is empty. Everything that she sells is sold in Moneda Nacional. In the morning she has at least 500 different sweets in her glass case ranging from 2 to 5 Cuban pesos.
In August of 2010 President Raul Castro announced that the current self-employment sector in Cuba would be expanded. This new sector consists of 178 jobs that the government gives licenses out for. One of the 178 jobs is a food vendor and Emilia's has a license for doing just that. The expansion of the self employment sector  comes after the government's announcement that it will be laying off a total of half a million state workers. This announcement is a part of the Cuban government's plan to try to decentralize itself and restructure the economy. The expansion of the self employment sector has the potential to help Cuba in both aspects. First the self employment sector has the possibility of being able to help absorb the half a million government workers. Furthermore the self employment sector can help the government increase efficiency and productivity of the economy.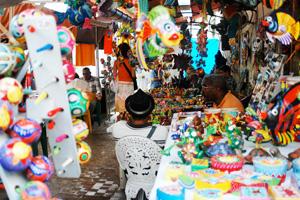 This sector is not a free for all, there are taxes. The Cuban government has created a new system of taxation for this industry that depends on personal income. It includes personal income tax, sales tax, income to be paid into social security system and a payroll tax. In addition only those jobs on the list 178 can be licensed and those outside of the list are still considered illegal. Some of the jobs on the list are Wheelbarrow Operator for  construction work, Bathroom Attendant, Buyer and Seller of Records or Extras  which means those people who are paid to pose for pictures in Old Havana. For example, in the fourth picture the man is painted entirely in silver working for tips is considered self employed.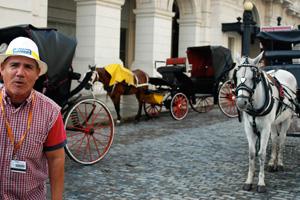 There are mixed feelings among Cubans about where this new sector is going and the challenges that it will face. Lise Perez, a 35 year old Habanera(a woman who dresses in old colonial era dress for photos) in Old Havana says that she works 2 to 3 hours a day, six days a week and she likes her job. She says she dresses in the old colonial dress but also sells roasted peanuts for 1 CUC tourist or 1 Cuban Peso for Cubans. She says that being self employed gives her flexibility and that she likes being able to work whenever she wants to. With an influx of people into the self employment sector there have been some problems such as competition. On many blocks there are five restaurants and they cannot all survive. Many people try to be self employed and then fail. However there are only two sectors in Cuba which are the self employment sector or the government. If both of those don't work then what does a person do? This is something that the Cuban government is still working on answering. However to date the government has not completed the job cuts but the layoffs have begun.