Greening the Revolution - by Emmalee June Kinard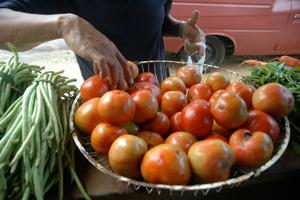 In the middle of Havana- a concrete jungle teeming with foot traffic and passing Chevys from the 1950's miraculously maintained but spewing murky gray exhaust- lies an emerald island. Lush green arugula, sweet basil and pale leafy mustard greens sway in a slight breeze above the soft, newly turned brown-black soil in neat rows of raised wooden beds. As I approach the green chain-link fence surrounding the organoponico where I volunteer each Thursday, I see a man wearing a red baseball cap standing between rows of basil, bent over the garden bed and rolling the dirt with his hands. He looks up, notices me, and a warm grin brightens his face as he greets me and energetically walks to the gate to let me in. Jesús is one of those rare people who possess a jolly, disarming demeanor that could put anyone at ease. After I change into cheap sandals that I don't mind muddying, we get down to work pulling weeds by hand, and Jesús teaches me the organic methods used by this urban garden as we go.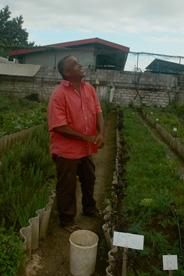 Urban gardening arose during the immensely difficult times of the Special Period in Cuba caused by the fall of the USSR, which brought with it a lack of input materials previously used in excess for agriculture such as pesticides, heavy machinery and fertilizer. Also, the deep economic plunge had far-ranging social costs: average caloric, protein, and vitamin intake in 1993 was 30% lower than levels achieved in 1989. Out of necessity, city dwellers began growing vegetables on patios, rooftops, empty lots, and any other space they could find. In 1994, with Resolution No. 356/93 the Ministry of Agriculture legalized the use of land for self-provisioning and also created an Urban Agriculture Department to provide assistance to urban gardeners. Organoponicos are one form of urban agriculture, which only use organic methods and are characterized by tidy rows of raised beds. The Cuban government especially encouraged urban agriculture during the worst years of the Crisis as a survival measure, given that they bring producer and consumer closer together, which reduces transportation and refrigeration costs while also providing accessible fresh local produce to urban communities. During certain years of the Special Period, urban gardens provided 60% of the vegetables consumed in cities throughout Cuba.
Even now after conditions on the island have improved, urban gardening has remained and continues to grow stronger. As of 2009, 350,000 urban farmers produce 1,460,000 tons of fresh organic vegetables each year. The evolution of the mentality of the Cuban government toward agriculture has undergone an enormous shift from highly industrialized and bureaucratic to encouraging organic methods and community-grown movements. Though this was first because of lack during the Crisis, the government seems to be continually moving toward a model of sustainable agriculture, especially after the soaring food prices in 2008 caused by the destruction of 3 hurricanes and the rise in worldwide food costs associated with the global financial crisis. President Raul Castro is especially concerned with food sovereignty as a matter of national security, and has placed emphasis on increasing domestic production of foodstuffs and decreasing food imports in order to break the cycle of import dependency Cuba has been trapped in with regards to feeding its citizens since colonization.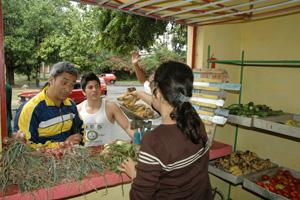 Organoponicos are one piece of the puzzle contributing to sustainable agriculture in Cuba which serve to promote ecological, social, and economic justice in food provision. Now that I have studied sustainable agriculture from an academic perspective, it's time to get my hands dirty and experience the impact this particular organoponico has had in the community.