New Breed/Student Work: Sareen Hairabedian - By Bill Gentile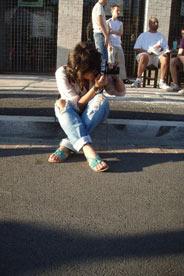 My Backpack Documentary class this past spring semester produced some exceptional films that are worth sharing with a broader audience.
Undergraduate student Sareen Hairabedian followed two young "guerrilla" street artists to shoot, produce and edit the film, "Let's Get Out of Here." The piece won the Audience Award at AU's School of Communication annual Visions Festival as well as Outstanding Undergraduate Documentary Production and Outstanding Editing.
It's a great example of the immediate, intimate work that is possible using the methodology that we refer to as "backpack video journalism," or "backpack documentary." And it's just a sample of some of the work being generated by our Backpack Journalism Project at American University's School of Communication. You can learn more about Sareen here http://sareenhairabedian.wordpress.com.
We'll be posting more of my students' work here, so stay tuned.
Photo cutline: H street Washington DC, April 2011. Sareen Hairabedian capturing images as she sits on the pavement of H street, looking through the lens of her camera. Photo taken by Lien Tran