New Breed: Bill Delano - By Michael Lindley
Washington, D.C., 7 February 2011 -- It was almost midnight as Jose Ramirez and his crew pulled their mobile clinic into the parking lot of Aqua Night Club. Like most Saturday nights, they had come to do outreach within the gay Latino community. A table was set up inside the packed nightclub offering a variety of prophylactics and information on safe sex and clinics in the area. Jose and his colleagues then entered the dance floor for a more direct form of outreach, encouraging young men and women to receive a free HIV test in their mobile clinic waiting outside.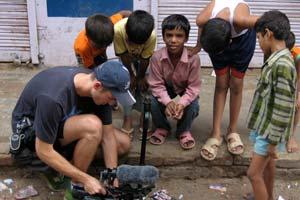 What made this night unique was the addition of Bill Delano to their party. Delano accompanied them to produce and shoot a video segment on the group's outreach efforts for USA Today's website. Delano, 28, is a new breed of journalist practicing a form of reporting called "backpack journalism." The essence of backpack journalism focuses on a reporter utilizing the latest technology in video production and digital editing to independently produce a video article, in contrast to the traditional form of reporting in which a crew of two to four people is sent to the field. This solitary approach allows Delano the intimacy to capture more personal moments and the time to create character-driven pieces.
Delano works at USA Today on an academic fellowship. This is the first time that USA Today has awarded this fellowship to a backpack journalist. He previously freelanced for the Travel Channel for four years and utilized the backpack journalism (sometimes also referred to as backpack documentary) methodology in 15 countries. Delano learned the technique as an undergrad at American University, under the guidance of Professor Bill Gentile, a pioneer in the field, and the founder/director of American University's Backpack Journalism Project.
Saturday night was Delano's third day shooting a segment on the HIV/AIDS epidemic in the Latino community. His story is focusing on the low percentage of Latinos who are tested and a new outreach program within the Latino community in Washington, D.C.
Delano previously interviewed Dr. Anthony S. Fauci, the director of the NIAID, the organization within the National Institute of Health that is responsible for combating HIV/AIDS and other infectious diseases. Delano also interviewed a 29-year-old man named Ruben who had tested positive for HIV/AIDS and lived in denial about his status for several years. Ruben eventually was able to receive proper treatment and counseling for his condition. He now serves on the board of La Clinica Publica, a free clinic created to provide health care within the Latino community, and works to help other Latino men come to terms with the reality of their disease. Delano's last shoot features a young Latino man going in for his HIV test.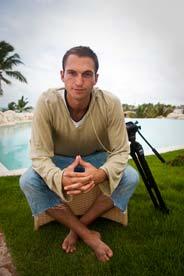 Now completing his Masters Degree in Journalism at American University, Delano originally found out about the outreach efforts while working on a class project last semester. He wrote an article about La Clinica Publica, and this gave him the idea to make a video about the outreach program. When asked how he chooses his topics, he responded that, "one story typically leads to the next story, and that is why it is so important to live in a dynamic environment where new stories are going on around you all the time."
One surprise for Delano was the difficulty many people face accepting their HIV positive status. In addition, he has been surprised by the level of stigma still associated with the disease within the Latino community. Although HIV/AIDS now is considered a treatable condition and not the death sentence it once was, many people still face ostracism based on their "positive" status. Delano said his inability to grasp the stigma still associated with the disease is a result of his own training to remain detached from a story –- and therefore the emotional impact it might have on his subjects. He said one of the biggest challenges producing this piece was dealing with the pain inflicted on those who carry the disease.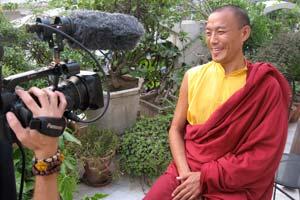 Another difficulty for Delano was reporting on a highly scientific subject matter. As a journalist, he has had little experience with healthcare related issues. When interviewing medical doctors and other healthcare professionals, he sometimes found it difficult to weave medical and scientific terminology into his work.
Despite the challenges involved with producing this video article, Delano has been inspired by the strength shown by both the people conducting the outreach and their intended audience. Delano was impressed by the dedication of those involved, often times sacrificing their own careers and social lives to have a positive impact on others. For every instance of rejection or intolerance, there have been vastly more examples of people rallying to support one another. In the end, what's most important to Delano is to capture a story and share it with others because as Delano says, "The job of a reporter is to go into the dark corners of the world and find out what is happening."
Delano spent Saturday night in a strobe light-infused night club instead of a dark corner of the world, but he accomplished what every video journalist sets out to do: He found someone making an impact on the world and told their story.