Journalism
Challenges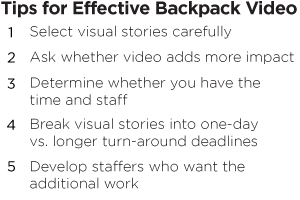 The amount of time it takes to create and process good video and the additional time required when a journalist works alone is a major source of conflict in many newsrooms.  
"I am a big believer that they (newsroom managers) need to try the method themselves so they understand what it takes to do it well," says independent producer Sacha. "Without doing that, they won't understand the effort and time required and they won't understand how many people are necessary to create a good piece and how long it takes to craft each piece. At Mediastorm, we were producing video pieces at a high level much like a documentary film. It wasn't uncommon to have 12 hours of work into every finished minute of video."  
Video not only takes time to create, but the limitations of broadband require video to be encoded and compressed at bit rates that balance quality and delivery speed. This post-production process is a barrier to workflow. "File-based video workflow is time-consuming," the Herald's Fadely says. "As opposed to television old-school playout, having the need to compress and render web-based video files for delivery takes much more time."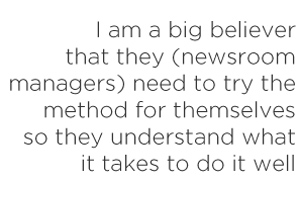 Disagreement over how much more time it takes a single journalist than a team to produce a story is another chafing point in many newsrooms. "It takes more time for one person to source a story, film it, fact-check, edit and output it than it would if members of a crew were to do the same," Fadely adds.  
For consumers of web video, the greatest challenge is finding it.  
On many newspaper websites video is promoted by small, overlooked links, or fails to stand out from the adjacent, highly-produced video advertisements. This play is indicative of a deeper problem. "Many news organizations, newspapers especially, felt industry pressure to jump into video journalism without a comprehensive strategy for management, training, implementation, workflow, support, and monetization," says Anger of latimes.com. "The general attitude seemed to be that everything would fall into place once journalists were equipped and producing. That hasn't happened and some newspapers have started to re-think whether video journalism is a good fit within the current structure."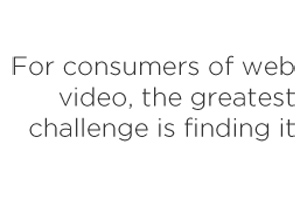 Even great video stories must wrestle for good space with news. News developments, even incremental ones, almost always bump documentary-style storytelling off the home page to less visible placement. De la Cruz of the washingtonpost.com, puts the challenge this way: "There is a conflict between always fresh vs. replaying the best stuff. Cable networks make sure people are really seeing their best work by continuously replaying it. It isn't about the visual journalism as much as it is about effective promotion. Most newspaper websites have yet to master this approach. We are really still trying to figure out how to make video findable and searchable on the web so people can find it and see it." Which raises the question, de la Cruz adds, "Why are we working so hard to produce the volume of content demanded by newsroom managers, if we are only going to be showcasing 25% or less of what we produce on a daily basis." In contrast, he cites the reality of NPR or cable news programs which concentrate the majority of resources on six to ten stories each day.
Best Use of Backpack Journalism | The Future of the Backpack Journalist