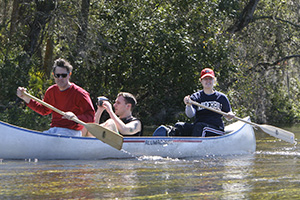 ABOUT THE CENTER
The Center for Environmental Filmmaking was founded on the conviction that films and new media are essential educational and policy tools in the struggle to protect the environment. The center's mission is to train students to produce films and new media that focus attention on the need to conserve the environment in a way that is effective as well as ethically sound, educationally powerful, and entertaining.

The world faces unprecedented environmental challenges, from climate change to species extinction. But powerful images and films, such as An Inconvenient Truth, can capture our attention and alert millions to the value of protecting the natural world. With the right combination of creative thinking, enthusiasm, practical knowledge, altruism, and a commitment to the natural world, today's students will become tomorrow's environmental stewards.

The Center for Environmental Filmmaking has four signature initiatives:

Bringing world-class filmmakers to the American University campus to teach and mentor
Advocating the ethical treatment of wildlife and the environment worldwide

What unites the center's many programs—besides a commitment to the environment and its conservation—is the desire to transform students' lives. We show students that through hard work, perseverance, critical thinking, and creativity, they can bring focus, passion, and meaning to their films and their lives. We value the exuberance that is born of the creative process, the courage to stand up for one's beliefs, and the compassion to care for those who can't speak for themselves—all fundamentally important values that will benefit students throughout their lives. 
 
As an integral part of AU's School of Communication, the Center for Environmental Filmmaking draws on and contributes to the content-rich programs in SOC's three divisions—Journalism, Public Communication, and Film and Media Arts. The center builds on the tremendous expertise of the dozen accomplished documentary filmmakers on SOC's faculty, including the center's four associate directors: Sandy Cannon-Brown, Larry Engel, Sarah Menke-Fish, and Maggie Burnette Stogner. 
 
Located in our nation's capital, the center collaborates with the world's major funding and advocacy institutions for environmental and wildlife conservation, including National Geographic, Discovery, Animal Planet, and the Jane Goodall Institute. And it participates actively in the RealScreen conference, SILVERDOCS, and the Environmental Film Festival, which are all held annually in the Washington, D.C., area. 
 
The center's activities and programs are made possible by the Wallace Genetic Foundation, Sally Brown, Gil Ordway, the Turner Foundation, Lucy Waletzky, Chris Palmer, Roger and Vicki Sant, the Sony Corporation, REI, and other generous donors.