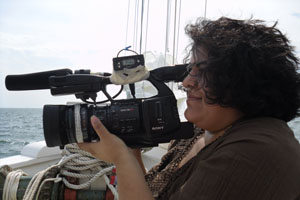 Aditi Desai filming on the Chesapeake Bay for Ecoviews, a program developed for Maryland Public Television. Photo by Shanon Sparks.
AU Student Film Airs April 18 on Maryland Public Television
American University, April 10, 2010 - - The Center for Environmental Filmmaking in the School of Communication is pleased to announce that EcoViews: Life on the Chesapeake Bay will air at 8:30 p.m., Sunday, April 18 on Maryland Public Television as part of MPT's annual Chesapeake Bay Week.  If you're out during prime time, you can catch a repeat of EcoViews at 11:30 p.m. or 2:30 a.m.
The HD film takes you on an entertaining and educational skipjack ride with Capt. Wade Murphy of the Rebecca T. Ruark; to Smith Island, home of the Smith Island cake; to an oyster festival in Leonardtown, MD, and out on a patrol boat with the Maryland Natural Resources Police.  The common thread to the stories is the tragic depletion of the oyster population in the Chesapeake Bay.
This outstanding half-hour special was conceived, written, produced, directed, shot and edited by students in Prof. Sandy Cannon-Brown's Environmental and Wildlife Production class.  Film and journalism students who would like the experience of producing a PBS documentary are encouraged to take the course next fall.  Comm-568 meets at 5:30 p.m. on Mondays. 
Animated interstitials for EcoViews: Life on the Chesapeake Bay were created by students in motion graphics classes taught by Prof. Brigid Maher and Prof. Catherine Eunice.