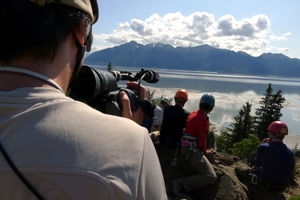 The Center's Larry Engel takes students to Alaska for Classroom in the Wild: Extreme HD.
This report gives an overview of what the Center for Environmental Filmmaking accomplished in 2012. The Center's activities and programs are made possible by the generosity of the foundations and donors listed at the end of this report on page 8.
I founded the Center eight years ago in the belief that films and new media are essential tools in the struggle to protect the environment and wildlife. Our mission is to train filmmakers to produce films and new media that effectively strengthen the global constituency for conservation.
The world faces immense environmental challenges. We are fouling our own nest to an unprecedented degree. Powerful, emotive, and affecting images and films can play a key role in raising the importance of conservation and bringing about change. We are committed to raising awareness and empowering action through the innovative use of media. More information about our programs can be found on our website www.environmentalfilm.org.  
The Center's work falls into four areas:  
1. Forming partnerships with blue chip organizations
2. Bringing world-class filmmakers to the AU campus to teach and mentor students
3. Creating innovative and enriching programs and classes
4. Advocating for the ethical treatment of wildlife and the environment
More details on our activities in these four areas follow:  
First, we give students the opportunity to work...read more
- Chris Palmer, Director