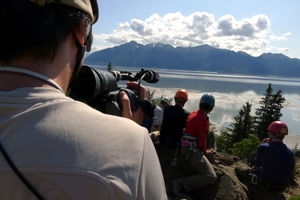 The Center's Larry Engel takes students to Alaska for Classroom in the Wild: Extreme HD.
The following report provides an overview of the Center for Environmental Filmmaking's activities and events scheduled for 2015. The Center's programs are made possible by the generosity of the foundations and donors listed at the end of this report.
With Dean Emeritus Larry Kirkman's support, I founded the Center ten years ago at the School of Communication in the belief that the world faces unprecedented environmental challenges, from climate disruption to species extinction.
Powerful films, images, and stories can play a key role in fostering conservation and bringing about change. We are committed to raising awareness and empowering action through the innovative use of media. 
Our tag line is: Changing lives. Fostering creativity. Conserving our environment through the power of media.
Our mission is to inspire a new generation of filmmakers and media experts whose commitment to environmental stewardship drives them to produce creative work that is informative, ethically sound, and entertaining—and that makes a positive difference. 
Our signature initiatives include:

Creating partnerships with established organizations—Maryland PublicTelevision, the National Park Service, The Nature Conservancy, and others—that give students the opportunity to produce professional films.

Bringing world-class filmmakers to American University to talk, teach, and mentor.

Developing innovative, interdisciplinary, and experiential classes and programs.

Promoting the ethical treatment of wildlife and the environment.

Awarding student scholarships and fellowships.

Supporting and mentoring environmental and wildlife filmmakers in a variety of ways.
More information about our programs can be found on our website:
www.environmentalfilm.org and at www.ChrisPalmerOnline.com.
- Chris Palmer, Director