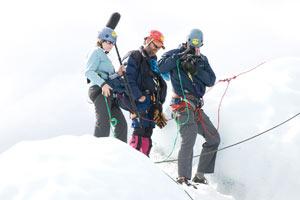 Alaska
SOC's Center for Environmental Filmmaking is offering students a three credit, three week immersive course in HD filmmaking under challenging environmental and expeditionary conditions in Alaska. Week one on campus and through distance learning prepares students in extreme filmmaking and survival techniques for the 8-10 day field work in Alaska. In week two the class flies to Anchorage and begins training in the field. We will concentrate on rock, glacier, and water. Then groups will produce short environmental and wildlife films. The last week of the course will bring students back to the university for postproduction and project completion.

Students are led by professor and filmmaker Larry Engel and survival expert Brian Horner. Students experience upwards of 20 hours of sunlight each day with hands-on experience under extreme filmmaking conditions. In addition, participants learn some of the most important survival skills needed for traveling and filming in remote locations and harsh environments.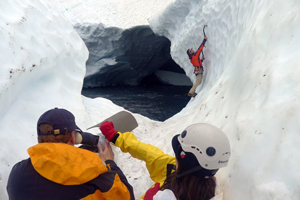 > Check out selected photos from Classroom in the Wild: Alaska
> Watch Classroom in the Wild: Alaska promo video

Center Director Chris Palmer says:
"It is hard to find a pair like Larry and Brian who are more experienced at what they do. They are among the best in the business. Their reputations for exceptional teaching and outstanding work are second to none, and any student who has the opportunity to spend time with them is very lucky. Their superlative skills, love of the outdoors, and mastery of what it takes to find great footage and great stories, makes this class in Alaska a must-do adventure. It will be an unforgettable and a life-changing experience for all participants"
For more information, contact: Prof. Larry Engel (646.226.9244 cell 202.885.2688) or Prof. Chris Palmer (202.716.6160 cell)