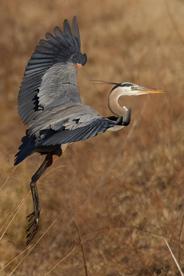 Photos by Bob Quinn/Blackwater NWP
The Chesapeake Bay
Report from Professor Chris Palmer on the March 2015 class: 
I want to share with you the wonderful class we completed over spring break in March 2015. Jamey Warner led the program and did a superb job. 
The 14 students spent nearly five days in the Chesapeake Bay making a variety of environmental and wildlife shorts at various locations along Maryland's eastern shore. Topics included birds of prey, wetlands, watersheds, wildlife refuges, and oysters. 
The group was just in time to catch glimpses of the first wave of ospreys returning back to the area after the winter to nest, and filmed bald eagles along with many species of waterfowl at the Blackwater National Wildlife Refuge. The group wrapped the week with two days of post-production at SOC where each student assembled a project and learned the finer points of editing their footage and creating a compelling narrative. The finished films will be screened at a special Center for Environmental Filmmaking event in the Doyle/Forman Theater in the fall.
I'd like to commend our outstanding students: Mariana Aycart, Sean Gilfillian, Brian Hedal, Katie Parody, Emily Petersen, Anna Sortino, J.C. Tecklenberg, Sean Thompson, Elizabeth Wilkins, Madeleine Wisecup, Jeff Wolfram, Katie Zombo, Julia Walker and Richard Raramsundar. Their commitment to the craft and to fostering a positive learning environment, despite the long days, was inspiring.
For more information: Please contact Professor Chris Palmer.