Fellowship Creates Media Projects that Facilitate Community Engagement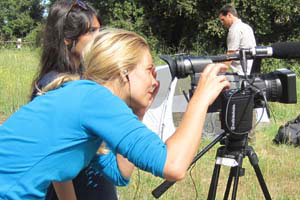 The Series: We reached out to American University School of Communication students and recent graduates who are spending this summer advancing their careers through a new job or internship, and asked how they got there, what they're learning, and what advice they have for others. We're sharing the responses in our summer series, "SOC Suits Up for Summer".
Jennifer Stratton has always possessed a fascination with exploring and sharing storytelling through visual media. Through work at the Entertainment Industries Council and the National Geographic Society in Washington, D.C., she experienced firsthand how filmmaking can be an innovative force in effecting societal changes. She decided she wanted to focus on global environmental and sustainability practices. After receiving an IHS fellowship in 2008 she moved to New York City and worked full-time for a motion graphics and animation production studio. During her time there, she developed an interest in combining traditional and experimental techniques to create media projects that facilitate community engagement. While earning her graduate degree at American University she plans to continue working on collaborative community storytelling projects as well as teach in order to support others in fulfilling their own filmmaking aspirations.
Q: How did you find your position?
A: I was contacted by Professor Chris Palmer about the opportunity to work as a National Geographic Media Camp Mentor for the 2011 Ocean for Life Field Study. The Center for Environmental Filmmaking at American University is a partner of the Ocean for Life program along with the National Oceanic and Atmospheric Administration's Office of National Marine Sanctuaries, GLOBE (Global Learning and Observations to Benefit the Environment), Scubanauts International and the National Geographic Society.
Q: What skills that you learned at SOC do you use in it?
A: The skills I acquired through my SOC production classes in filmmaking, editing and motion graphics were utilized while working with the OFL students on their media project assignments. I also found the Producing Environmental and Wildlife Films class I took with Professor Palmer to be particularly beneficial due to the fact that one of the major themes of the OFL program is environmental conservation and stewardship.
Q: What do you believe is the most valuable aspect of the NOAA Oceans for Life program for the students who participate?
A: I think the overall experience of meeting and collaborating with students from several different countries is the most valuable aspect of the Ocean for Life program. After only ten days together the students became a tight knit family. I believe the relationships they now have with each other will have a positive impact on them for the rest of their lives.
Q: Describe your job with Oceans for Life.
A: Our schedule was jam-packed with a wide range of environmental education, cultural sharing and media camp activities so no day was the same. The media camp runs simultaneously with the Ocean for Life field study so throughout the day we would weave in teaching moments with our students as they completed their field study activities. The media camp team would also work behind the scenes to make selects of student photographs as well as assemble the final media projects for the graduation ceremony at the end of the field study.
Q: What is the most challenging aspect of your position?
A: With each day full of different activities one of the major challenges was remaining as flexible as possible with shooting schedules, lesson plans and student media assignments.
Q: What is the most valuable aspect of your position?
A: I think media production skills are incredibly valuable to students from all different fields of study. Most of the students in the Ocean for Life program have a very strong science background. Having a media camp component to the program teaches these students how to communicate their environmental conservation practices and research to a wider audience. We helped the students learn how to visually document their thoughts and feelings throughout this unique field study.
Q: What made you trade off "vacation" for an position?
A: Getting to be outside in the incredible Channel Islands while teaching students how to make photographs and films didn't feel like work! I loved working with the students and getting to explore a National Marine Sanctuary.
Q: What are your plans after this summer?
A: My plans are to complete my graduate program within the next year and continue taking advantage of opportunities to teach film related courses, workshops and camps.
Q: Any tips for others looking for an position in your field?
A: For those interested in teaching I would recommend starting locally by volunteering in their community with an education non-profit or asking a SOC professor if they know of any opportunities.
Q: Any stories you'd like to share?
A: After camp ended the students became friends on Facebook and have been communicating with each other, sharing photos, etc. practically every day. Several of the students have even sent me messages telling me how they used their Ocean for Life media project to give a presentation to members of their community. It is wonderful to see the students still engaging with each other and continuing to practice photography/film based on lessons learned during the Ocean for Life program.