Emmy Win for Environmental Film Students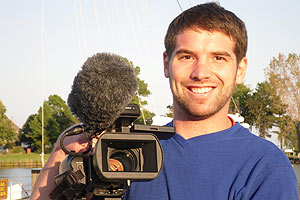 A team of American University School of Communication students received an Emmy for Outstanding Achievement in Student (Non-News) Production for their documentary, EcoViews: Life on the Bay. The 2007 episode also won the award, which is presented by The National Capital Chesapeake Bay Chapter of the National Academy of Television Arts and Sciences.
The prestigious "student Emmy" went to students in professor Sandy Cannon-Brown's Environmental and Wildlife Filmmaking class, and also acknowledged the outstanding work of several students in Brigid Maher's and Catherine Eunice's motion graphics classes for the interstitials selected for the program. This is the fourth episode SOC students have produced for Maryland Public Television.
EcoViews aired on MPT as part of Chesapeake Bay Week in April. Many other public broadcasting stations also aired the program. The documentary tells four stories about people and communities affected by the health of the Bay.
The winning team included Anthony Brenneman, Nate Brigham, Liz Calka, Katie Carrus, Aditi Desai, Jess Dibartolomeo, Genna Duberstein, Steve Erdman, Kai Fang, Andrew Hall, Ansu John, Patrick Jones, Eileen Keegan, Drew Louis, Dionna McMillian, Jeremy Polk, Eric Roden, Shanon Sparks, and Tate Strickland.
The SOC-MPT partnership is one example of the way SOC faculty leverage their own networks to develop opportunities for students. And it's yielded great results. In addition to the awards won by the 2010 episode, the 2009 episode racked up a slew of awards and recognitions, including a 2010 CINE Golden Eagle Award, a 2009 TIVA-DC Peer Silver Award, a Regional Student Academy Award Winner, and was a 2010 National Student Academy Award Finalist, Documentary category.
The idea for the production came from a conversation between professor Maher and MPT's Steven Schupak at the Center for Social Media's annual Making Your Media Matter conference. They reached out to SOC Professor and Center for Environmental Filmmaking Director Chris Palmer, who helped to develop the production plan and hosted the program.
"Professor Sandy Cannon-Brown's class exemplifies the kind of ambitious, hand-on, professional, career-building project that SOC's Center for Environmental Filmmaking is proud to offer AU students," says Palmer.
Environmental and Wildlife Filmmaking, COMM-568, will be offered again in the 2011 Spring semester.