Achievements
SOC Alumni Win Back-to-Back Oscars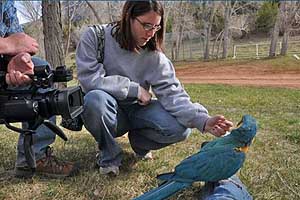 Lauren DeAngelis, MA '08, beat competitors from some of the country's top film programs to win an Oscar for A Place to Land, her thesis documentary that looks at the complications and challenges of caring for parrots in captivity.
This is the second consecutive year that a student from American University's School of Communication (SOC) has won an Oscar for documentary from the Academy of Motion Picture Arts and Sciences. Laura Waters Hinson, MFA '07, won a Student Oscar last year for As We Forgive, a documentary about reconciliation efforts in Rwanda.
This year, the Academy selected three student documentaries from nine finalists to receive a bronze, silver or gold medal June 13, at an awards ceremony in Beverly Hills. Other film programs represented as finalists in the documentary category included Stanford, Columbia, and University of Michigan. A Student Academy Award is the highest honor a film student can receive.
DeAngelis's own parrot was the inspiration for A Place to Land. "I got her as a baby when I was only 10. I obviously didn't know anything about parrots at that time, and I think a lot of people are the same way -- they buy a parrot without knowing the lifelong commitment they are taking on," DeAngelis observes. A parrot can live to be 70 or 80 years old, she added.

A Place to Land demonstrates the filmmaker's commitment to her subject and her art. DeAngelis wrote, directed, produced and funded the 30-minute documentary in a year, usually working with just a crew of two, herself and fellow SOC film student Joe Bohannon.
SOC faculty offered invaluable guidance throughout the project, DeAngelis says. "I came up with the concept in Chris Palmer's class and wrote a treatment about a year before I decided to produce it as my thesis film. Then, I was able to develop it further by using it for exercises in other classes." Palmer, an Emmy-winning producer of IMAX films, founded and directs SOC's Center for Environmental Filmmaking. He teaches a course at SOC in wildlife filmmaking. 
SOC professor Maggie Burnette Stogner, formerly a senior producer at National Geographic, was DeAngelis's thesis adviser. "Lauren's film represents an ideal combination of talent and passion. She used her excellent filmmaking skills to create awareness about the tragic plight of abandoned birds. This emphasis on making media that matters is what AU's School of Communication is all about." 

Now, with her degree and Oscar in hand, DeAngelis, an online writer and editor at U.S. News & World Report, is preparing A Place to Land for DVD sales.