Achievements
SOC Filmmaker Shines with Oscar Silver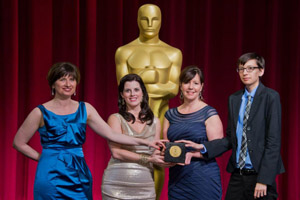 AU's School of Communication student filmmakers are on an Oscar roll.
On Saturday, Ellen Tripler '12 turned her documentary Dying Green into Oscar silver.
That makes her the third SOC student Oscar winner in the past four years. An SOC alum also previously won an award for her MFA thesis at NYU.
"After being out there and meeting with those people and seeing the caliber of work these students were doing, it was really an honor," Tripler said of her award, only three of which were presented out of some 550 entries.
In her acceptance speech, following an introduction by actor Cuba Gooding Jr., Tripler gave a shout-out to her family, her crew, and supporters at AU, especially SOC advisors John Douglass, Maggie Stogner, and Chris Palmer.
The recent AU School of Communication MFA grad's second-place award at the Academy of Motion Picture Arts and Sciences' 39th Annual Student Academy Awards competition followed her previous bronze medal prize in the documentary category at the College Television Awards.
Tripler was presented the Oscar award June 9 at the Academy's Samuel Goldwyn Theater in Beverly Hills for her documentary Dying Green, which she produced and directed, on the environmentally friendly burial practices of Dr. Billy Campbell in South Carolina.
Campbell's nature preserve conducts burials in simple wooden caskets or urns without embalming fluid or chemical preservatives. Formaldehyde, which is used to preserve bodies, is classified as a probable human carcinogen. No pesticides are used to maintain the burial ground, a PBS report noted, and natural grave markers made of materials found in the area are used.
Even before the Oscars the Bethesda, Maryland, resident's film had generated a good deal of buzz. After the College Television Awards Tripler and Dr. Campbell were interviewed on the PBS NewsHour — quite a feat considering there were 180 films at the festival to choose from.
The film premiered at the DC Environmental Film Festival and is showing at other film festivals, including the Myrtle Beach and Rhode Island International Film Festivals.
Other AU students involved in the production were Stephen Tringali, director of photography, and editors Kelly Donnellan and Emily Gaines Brigham.
Tripler's Academy-site bio is loaded with accomplishments. An independent filmmaker who recently earned her MFA in film and electronic arts from American University's School of Communication, she has worked on many award-winning productions, among them a TIVA-DC Peer Gold Award for Best Student Dramatic Production, a CINE Golden Eagle for the Independent Division, and Best Student Documentary Film at CINE Montana.
As student filmmakers go, Tripler's not exactly out of central casting. She lived abroad for more than 15 years, and she and her German husband and their two sons moved back to the D.C. area so that she could pursue her dream of becoming a documentary filmmaker. 
She also was selected as a scholar in AU's School of Communication Center for Environmental Filmmaking.
"Ellen is highly creative, exceptionally diligent, and an outstanding filmmaker," said SOC professor Chris Palmer, distinguished film producer in residence and director of the Center for Environmental Filmmaking. "She developed the basic idea for her film Dying Green in my class — something I'm extremely proud of — and worked on it relentlessly as she honed and shaped the most compelling story possible.
"The center is very proud to have helped to fund Dying Green," Palmer said. "Ellen earned the distinction of becoming a Scholar at the center because of the extraordinarily high caliber of her work. She is exactly the kind of filmmaker we are proud to produce at SOC — someone who is devoted to producing films that make a difference, that convey important messages, and that help make the world a better place."
NYU's Keiko Wright won the documentary gold medal for Hiro: A Story of Japanese Internment. Heather Burky of the Art Institute of Jacksonville won the bronze medal for Lost Country.
 
Gold, silver, and bronze medal winners received $5,000, $3,000, and $2,000 respectively.