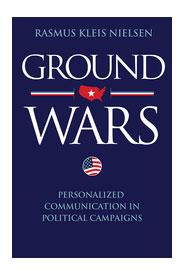 What: Oxford researcher Rasmus Kleis Nielsen will give be giving a lecture at American University on his new book Ground Wars: Personalized Political Communication in American Campaigns (Princeton University Press 2012).  In the book, "Rasmus Kleis Nielsen examines how American political operatives use "personalized political communication" to engage with the electorate, and weighs the implications of ground war tactics for how we understand political campaigns and what it means to participate in them." (read more)
When: Tuesday, April 10, at 11:00 a.m.
Where: Wechsler Theater (Mary Graydon Center room 315) American University main campus.