ABOUT THE PROJECT
The 9/11: Then and Now project is part of the Simpson Fellowship at the School of Communication at American University and was designed by 2010-2011 Simpson Fellows Emily Rogers and Carissa Alaimo with Laura Rehrmann of Gannett/Content One and Dotty Lynch of AU, Velginy Hernandez, MA student in Political Communication, assisted on the project.
In April 2011 letters were sent to public figures, elected officials and citizens with a direct personal connection to the events of Sept. 11, 2001. They were asked to reflect a decade after the pivotal events on a statement they had made immediately after the attacks.
A number of people including former President Bill Clinton, former Vice President Dick Cheney, 911 Commission Chair Thomas Kean and a family member of a 911 victim responded by letter, phone or email. For other major figures we have included quotes from the public record to give insight to their thoughts as we approach the 10th anniversary.
The Simpson Fellowship, endowed by the late Rev James B Simpson, author of Simpson's Contemporary Quotations, calls for a research project related to the collection, archiving, and publication of notable quotations. We believe the 9/11: Then and Now project reflects Simpson's passion for collecting the thoughtful words of others and are grateful to Gannett and Content One for incorporating this into their 10 year anniversary coverage.
MADELEINE ALBRIGHT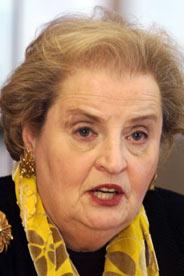 Then: Immediate Former U.S. Secretary of State "The hugeness of this disaster actually provides an atmosphere in which the options chosen will have more domestic and international support. But we have to remember that the tools still fall into the same three general categories: diplomatic, economic and military." - Remarks from an address to Georgetown University students, Sept. 20, 2001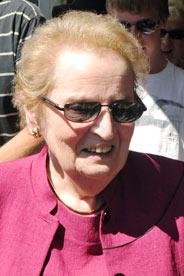 Now: Professor of International Relations at Georgetown University "I believe now, as I did ten years ago, that our response to the terrorist threat requires a three-part strategy: 1) defend our homeland; 2) strike the enemy; and 3) win the battle of ideas. This is not a fight in which complete or permanent victory is likely, but I am confident that a persistent approach on each front will isolate and ultimately defeat our foes. The key in the long run is to support a viable and peaceful democratic alternative to the destructive nihilism promoted by Al Qaeda." - Statement to the Simpson Fellows, May 5, 2011
OSAMA BIN LADEN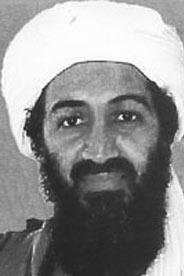 Then: Leader of Al Qaeda "I tell them that these events have divided the world into two camps, the camp of the faithful and the camp of infidels. May God shield us and you from them. Every Muslim must rise to defend his religion. The wind of faith is blowing and the wind of change is blowing to remove evil from the Peninsula of Mohammad, peace be upon him. As to America, I say to it and its people a few words: I swear to God that America will not live in peace before peace reigns in Palestine, and before all the army of infidels depart the land of Mohammad, peace be upon him." - From a video statement to Al-Jazeera, Oct. 7, 2001
Now: Killed by U.S. Navy SEALS, May 1, 2011 "The masters of the White House have been perpetrating their injustice upon us, and they still do, especially through their support to Israel in its occupation of our land in Palestine. They thought that America, far beyond the oceans, is safe from the reprisal of the oppressed. Until the answer came, loud and strong, in the heart of your home, on the 11th of September with the grace of Allah. Wise is he who gains wisdom from others. It is only fair to treat and be treated on equal footing, and war one day goes for you and another day against you." - From an audio recording broadcast on Al-Jazeera, Mar. 25, 2010
Kristen Breitweiser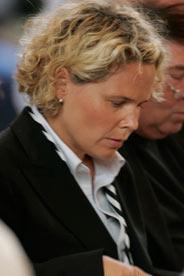 Then: Co-Chair of the September 11th Advocates; Member of Family Steering Committee; Wife of Ronald Michael Breitweiser, killed in the North Tower of the World Trade Center "What can be said to you today is that the families continue to suffer each and every day. All we have are tears and a resolve to find the answers because we continue to look into the eyes of our young children who ask us why? We have an obligation as parents and as a nation to provide these innocent children with answers as to why their mother or father never returned home from work that day. We need people to be held accountable for their failures." - Testimony at the Joint 9/11 Inquiry of the Senate Select Committee on Intelligence and the House Permanent Select Committee on Intelligence, Sept. 18, 2002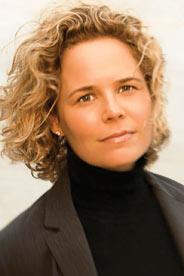 Now: Co-Chair of the September 11th Advocates; Author; Advisory Committee Member for the Memorial Project "The question is: have we as a nation grown, learned valuable lessons, or been made stronger in the past 10 years? Sadly, I think the answer is no. Because over the past decade, we have seen that our Presidents prefer to move forward rather than to look back. We now know that greed and incompetence are rewarded while accountability and responsibility are ignored. Tragically, we have watched as the fundamentals of our Constitution are craftily set aside under the guise of national security. And we've entered costly wars based on lies; wars where thousands of innocent lives have been senselessly lost in the false-fight of 'the war on terror.' All the while, the remnants of the fourth estate, our media, has proven itself lazy and no longer capable of informing, inspiring or engaging the American public. In the end, today, there is no collective conscience where long-term thoughtfulness and institutional memory can co-exist. There seems to be little of worthy substance that we can grab on to, gather around, or find true American pride in. My hope for the next ten years is that somehow, someway, we will be able to find our better selves again and redefine our nation's mission into something more meaningful and true to our ideals but I genuinely worry that we won't. And that is what breaks my heart the very most." - Statement to the Simpson Fellows, May 13, 2011
GEORGE W. BUSH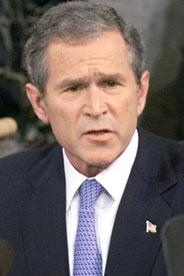 Then: President of the United States of America "This battle will take time and resolve, but make no mistake about it, we will win." - National address from the Cabinet Room of the White House, Sept. 12, 2001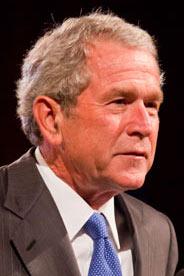 Now: Author, Former President (2001-2009) "This momentous achievement marks a victory for America, for people who seek peace around the world, and for all those who lost loved ones on Sept 11, 2001. The fight against terror goes on, but tonight America has sent an unmistakable message: No matter how long it takes, justice will be done." - Statement following the death of Osama Bin Laden, May 1, 2011
DICK CHENEY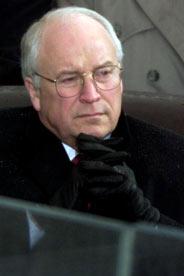 Then: Vice President of the United States of America "We also have to work, though, sort of the dark side, if you will. We've got to spend time in the shadows in the intelligence world. A lot of what needs to be done here will have to be done quietly, without any discussion, using sources and methods that are available to our intelligence agencies, if we're going to be successful." - From an interview with Tim Russert on NBC's Meet the Press, Sept. 16, 2001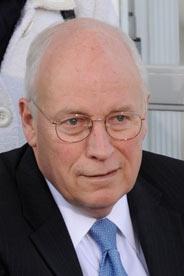 Now: Trustee at the American Enterprise Institute for Public Policy Research "I thought the quote was appropriate then and appropriate now. I meant what I said and I said what I meant." - Statement to the Simpson Fellows, April. 4, 2011
BILL CLINTON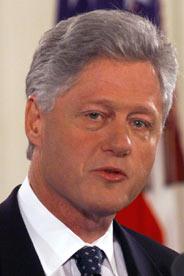 Then: Immediate Former U.S. President "The people who attacked the World Trade Center and the Pentagon had a belief system that is exactly the opposite of what makes this school great. They believe that only one religion and only one narrow interpretation of that religion has the whole truth, anything anybody ever needs to know…They want you to be afraid to live your lives. The most important thing you can do is to go on with your life, and be you." - Remarks from a speech given to students at Frederick Douglass Academy in Harlem, New York, Sept. 28, 2001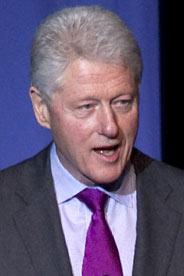 Now: Founder of the William J. Clinton Foundation and Clinton Global Initiative "After September 11, 2001, we know we are not immune from the destructive forces sweeping across our interdependent world, and we needed to strengthen our defenses against them. Thankfully, we rejected the temptation to replace al Qaeda's absolutism with our own vision. Instead, the vast majority of Americans also continued to claim the benefits of interdependence, and to reach across religious, racial and cultural divides to build a vibrant, diverse community of shared opportunities and responsibilities. It's a 21st century version of our founder's vision of a "more perfect union," true to our values and good for our future." - Statement to Simpson Fellows, May 10, 2011
HILLARY CLINTON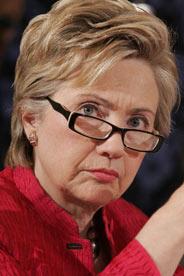 Then: U.S. Senator from New York (D) "New York was not an accidental choice for these madmen, these terrorists, and these instruments of evil. They deliberately chose to strike at a city, which is a global city — it is the city of the Twenty First century, it epitomizes who we are as Americans. And so this in a very real sense was an attack on America, on our values, on our power, and on who we are as a people. And I know — because I know America — that America will stand behind New York. That America will offer whatever resources, aid, comfort, support that New Yorkers and New York require. Because the greatest rebuke we can offer to those who attack our way of life is to demonstrate clearly that we are not cowed in any way whatsoever." - Sen. Hillary Clinton, Senate Floor Speech, "Terrorist Attacks Against the United States," Sept. 12, 2001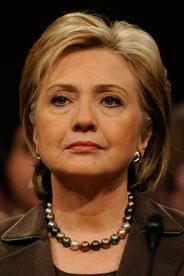 Now: U.S. Secretary of State "I am reminded especially today of the heroism and humanity that marked the difficult days after 9/11. In New York, where I was a senator, our community was devastated; but we pulled through. Ten years later, that American spirit remains as powerful as ever, and it will continue to prevail. So this is a day, not only for Americans, but also for people all over the world who look to a more peaceful and secure future -- yes, with continued vigilance, but more so with growing hope and renewed faith in what is possible." - Statement to the press following the death of Osama Bin Laden, May 2, 2011
TOM DASCHLE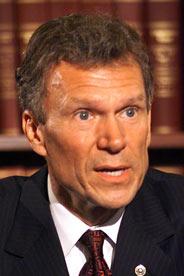 Then: Majority Leader of the U.S. Senate "We must not punish entire groups for the actions of a misguided few. Just as we are united tonight against terrorism, so too must we be united against the acts of hatred toward innocent Arab Americans and Muslims and all of those who have come to our country seeking opportunity." - Remarks to the press after touring Ground Zero, Sept. 20, 2001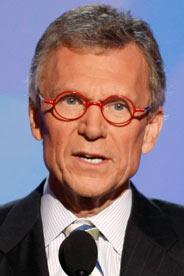 Now: Senior Policy Advisor, DLA Piper and Vice-Chair, National Democratic Institute "I spoke those words after seeing the absolute worst of what misguided hatred had wreaked on our nation. I wanted to make sure that we didn't answer misguided hatred with misguided anger. Over the last decade, to a remarkable extent, the American people have not. Our ability to remain a diverse, pluralistic country where we not only accept but embrace people with different beliefs and backgrounds will forever stand as an enduring rebuke to the failed ideology that drives Al Qaeda." - Statement to Simpson Fellows, May 12, 2011
JIM GILMORE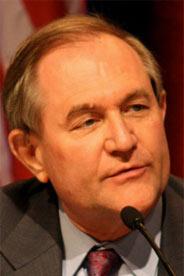 Then: Governor of the Commonwealth of Virginia "After a generation of moral equivocation, we in America know that now there is evil in the world. There is right and wrong, and the United States is clearly in the right in this instance. And we have a right to our indignation and to our American resolve." - Remarks during a press conference in Virginia, Sept. 17, 2001
Now: President & CEO of the Free Congress Foundation "That day was very shocking to so many Americans because it really changed their view of the world and America's place in it. We were attacked by those who see our values as a threat. Then and now, our nation has every right to protect itself from the radical ideologues and religious fundamentalists who seek to harm us. Though we've had victories in our fight against this threat, it still very much exists and so our resolve must continue. After 10 years, the federal government has not communicated to the public whether we have a response plan or the role of citizens in any disaster response. The people of our country must be prepared mentally and emotionally for any attack, and know exactly what to do in the minutes and hours that follow. Every American must be prepared to do their part, even if only to take responsibility for their own safety and that of their family. I believe Americans are ready and willing to play that role." - Statement to Simpson Fellows, May 11, 2011
RUDY GIULIANI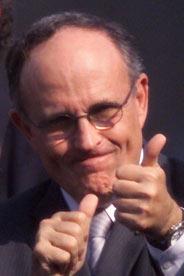 Then: Mayor of New York, NY "This massive attack was intended to break our spirit. It has not done that. It's made us stronger, more determined, and more resolved." - Opening remarks to the United Nations General Assembly Special Session on Terrorism, Oct. 1, 2001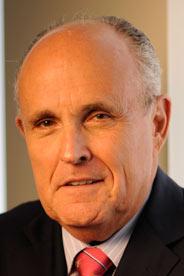 Now: Lawyer and businessman "It was really very, very heart warming to see so many people just spontaneously go out on the street in Washington and New York. It means that -- and a lot of young people. And it means they still remember and they still have -- they still have an understanding of what happened on September 11th." - In an interview with Piers Morgan on CNN's Piers Morgan Tonight, May 2, 2011 on the celebration following the death of Osama bin Laden
THOMAS KEAN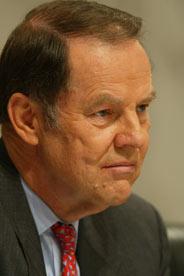 Then: Chair of the National Commission on Terrorist Attacks Upon the United States, Former Governor of New Jersey "In conversations I have had with family members of people who perished in the attacks against the World Trade Center, the Pentagon, and in that plane crash in a small field in Somerset County, Pennsylvania, they told me time and again that the one thing they were concerned about was to make sure that their loved ones had not died in vain. It's horrible enough to see someone you love struck down in this manner. It would be even worse for the rest of us to do nothing to prevent other families from having to endure such grief and pain in the future. As Chairman of the Commission, I want to say that I consider this task the most important part of our work. We must not allow the people who were struck down to simply become statistics. Each represented a life that was interrupted. All had families, colleagues and friends who care deeply about them, all who perished had dreams that are now unfulfilled. All became the first casualties of what has become a war against the United States, declared by international terrorists." - Opening Statement, National Commission on Terrorist Attacks on the United States, First Meeting of the 9-11 Commission, New York City, Mar. 31, 2003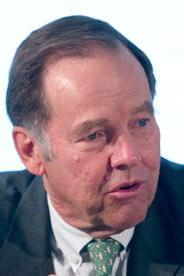 Now: General Partner at Quad Partners, which urges private investments in education "On July, 17, 2004, the 9-11 Commission, upon conclusion of its investigation of how 19 angry young men were able to circumvent virtually all of this great nation's intelligence, defense and security operations, and take the lives of nearly 3000 Americans, made 41 recommendations designed to reduce the likelihood that would-be enemies of the United States would ever be able to inflict such harm upon us again. Congress and two presidential administrations adopted most of them and parts of others. As a result of their actions, we as a nation are safer than we were on September 11, 2001. We can, however, be made safer still. As the President has said, while the demise of the mastermind of those attacks has greatly weakened al Qaeda, the war in which we remain engaged is far from over. I know of no better way to honor the memories of those who died on that fateful day of 9-11 than to enact three of our most important recommendations that continue to cry out for attention: the enhancement of Congress's oversight capabilities and the strengthening of its House and Senate Intelligence committees, the universal adoption of spectrum capabilities for our emergency responders, and the application of biometric cards for all who travel into, out of and between our borders. I urge them to act with all urgency." - In an email statement to the Simpson Fellows, May 11, 2011
BARBARA LEE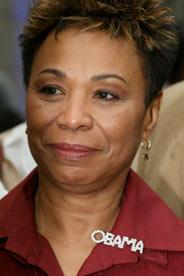 Then: U.S. Representative for the 9th District of California (D) "September 11th changed the world. Our deepest fears now haunt us. Yet, I am convinced that military action will not prevent further acts of international terrorism against the United States." - Speaking on the floor of the House of Representatives in opposition to H.R. Res. 64, the Authorization for Use of Military Force Against Terrorists Act, Sept. 14, 200
Now: U.S. Representative for the 9th District of California (D) "On September 14, 2001, I placed the lone vote against the 'Authorization of Use of Force'— an authorization that I knew would provide a blank check to wage war anywhere, at any time, and for any length. Nearly a decade later, the United States remains embroiled in the longest war in our nation's history in Afghanistan, longer than Vietnam and World War II. From the start, I have maintained that this war would hurt our economic and national security and, unfortunately, time has proven that to be true. If you had told the American people that we would still be in Afghanistan a decade later, perhaps there would have been a more thorough debate about the invasion and a different outcome of that fateful vote less than a week after 9/11." - Remarks at a press conference on Capitol Hill introducing a bill to end the war in Afghanistan, Feb. 17, 2011
TRENT LOTT
Then: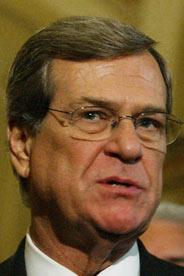 Minority Leader of the U.S. Senate (R) "I've been in Congress, this is I guess 28 years or so, and I've never seen the leadership work together the way we have. And there have been those that didn't agree with the decisions sometimes that the leadership had made, but we have stood together. …We've done it together. I think we've learned from it. And I think our relationship will be different and better in the future because of it." - Remarks to Tim Russert on Meet the Press, Sept. 23, 2001 Now: Senior Counsel at The Breaux-Lott Leadership Group  
Now: Senior Counsel at The Breaux-Lott Leadership Group "It was a defining moment in our country's history, but one where the Congress truly united and rose to the occasion." - Statement to Simpson Fellows, Apr. 19, 2011
MUSLIM PUBLIC AFFAIRS COUNCIL
Then: Member of the American Muslim Political Coordination Council, a group that works for civil rights for American Muslims. "American Muslims utterly condemn what are apparently vicious and cowardly acts of terrorism against innocent civilians. We join with all Americans in calling for the swift apprehension and punishment of the perpetrators. No political cause could ever be assisted by such immoral acts." - Newswire statement titled "U.S. Muslims Condemn Terrorist Attacks," Sept. 11, 2001
Now: Observer of the American Muslim Political Coordination Council (AMPCC); Founding Member of the Abrahamic Faith Peacemaking Initiative; Founding Organization of 'The National Grassroots Campaign to Fight Terrorism' "We feel that the demise of bin Laden represents the ending of a dark era using political violence, terrorism to achieve and to address the victims of the Muslim masses. We hope that it also signifies the ushering of a new era where we see better relations between the United States and the Muslim world based on constructive engagement and based on non-militarism and non-violence. What we are saying now is that political violence, otherwise known as terrorism, has proven to be a failure in terms of achieving interests for the Muslim world. It has done the opposite for Muslims. It has harmed the interests of Muslims. So the revolution, the Arab revolution, has indicated to us that non-violence is the means by which Muslims can achieve their goals, and any time there is an involvement of an arms struggle and/or terrorism, Muslim interests are handicapped, if not compromised." - Salam Al-Marayati, President of the Muslim Public Affairs Council, in a phone interview with the Simpson Fellows, May 4, 2011
BARACK OBAMA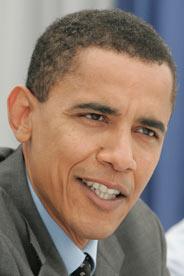 Then: Illinois State Senator (D) "Even as I hope for some measure of peace and comfort to the bereaved families, I must also hope that we as a nation draw some measure of wisdom from this tragedy. Certain immediate lessons are clear, and we must act upon those lessons decisively. We need to step up security at our airports. We must reexamine the effectiveness of our intelligence networks. And we must be resolute in identifying the perpetrators of these heinous acts and dismantling their organizations of destruction." - From a statement to the Hyde Park Herald, Sept. 19, 2001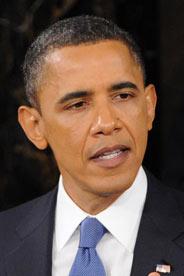 Now: President of the United States of America "The American people did not choose this fight. It came to our shores, and started with the senseless slaughter of our citizens. After nearly 10 years of service, struggle, and sacrifice, we know well the costs of war…we will never tolerate our security being threatened, nor stand idly by when our people have been killed. We will be relentless in defense of our citizens and our friends and allies. We will be true to the values that make us who we are. And on nights like this one, we can say to those families who have lost loved ones to al Qaeda's terror: Justice has been done." - From a televised speech to the American public following the death of Osama bin Laden, May 1, 2011
COLIN POWELL
Then: U.S. Secretary of State "…[L]ook at the strength that has emerged, look at how people are shaking each other's hands and hugging each other again and going to our churches and mosques and synagogues and reinforcing our belief in our society. They can knock down buildings, they can kill thousands of us and cause so many Americans to grieve. They can't destroy our society. They can't destroy who we are. They can't destroy America." - From an interview with Wolf Blitzer on CNN, Sept. 16, 2001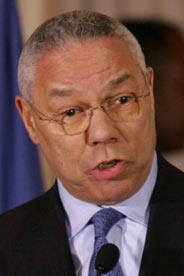 Now: Strategic Limited Partner at Kleiner Perkins Caulfield & Byers "Even as people were criticizing us, every morning at every one of our consular offices and embassies around the world, people were lined up, and they were all saying the same thing when they got to the window, I want to go to America. We still are that place. We still are that place of inspiration. We're that place of initiative. We're that place that people look to when they want problems solved throughout the world. So America still has a dominant position in the world." - From an interview with Candy Crowley on CNN's State of the Union, Jan. 23, 2011
GERHARD SCHROEDER
Then: Chancellor of Germany "In reality we are already one world. For this reason the attacks in New York, the seat of the United Nations, and in Washington, were directed against us all. Yesterday's terrorist attack demonstrated once again that security in our world is not divisible. It can only be achieved by standing together more closely for our values and by working together to implement them." - From a declaration before the Bundestag in Berlin, Sept. 12, 2001
Now: Global Manager of Rothschild and Chairman of the Board of Nord Stream AG "Just as I did during my subsequent meetings with the American president, I made it clear that, should Iraq ... prove to have provided protection and hospitality to al-Qaeda fighters, Germany would reliably stand beside the US. This connection, however, as it became clear during 2002, was false and constructed." - From a statement released to the German press in response to the claim in President Bush's memoir that Schroeder abruptly reversed his decision to support the United States in the War on Terror, as reported by Der Spiegel, Nov. 9, 2010
CHARLES SCHUMER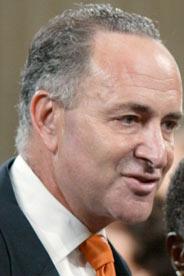 Then: U.S. Senator for New York (D) "First, we are a resilient nation. We don't take anything on our knees. We will not take this. I assure the enemies of America, the enemies of freedom, the enemies of progress, of that. Second, we must keep our freedoms as we do this. To constrict ourselves would give them the victory. And we must keep them." - From a Senate floor speech, "Terrorist Attacks Against the United States," Sept. 12, 2001
Now: U.S. Senator for New York (D) "It's an amazing day. I think back to the day after 9/11, when we came here, the smell of death was in the air. There were people holding posters saying, have you seen my sister, my daughter, my husband? And everyone thought downtown would be deserted. We thought everyone would move far away. Here we are. Buildings are going up, the streets are crowded, young people are flocking here. America triumphs and bin Laden being gone, turning point in the war on terror. It gives you a lot of faith in the future of this country and that good and right can prevail." - From an interview with Anderson Cooper on a CNN Live Event/Special, Ground Zero memorial event, May 5, 2011
THOMAS VON ESSEN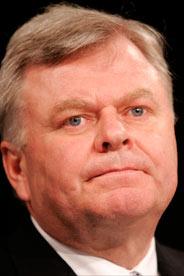 Then: Fire Commissioner of the City of New York, NY "I want to put a message out there that you can try to destroy the city, but you can't destroy the Fire Department." - Remarks as reported by the New York Daily News, Sept. 16, 2001
Now: Chairman Emeritus of the Fire Department of New York Foundation "I don't think we're safer, I think we're probably more in jeopardy because there's such a bigger world of radical lunatics out there that want to destroy us, but I think we've improved our safety protections, you know the firefighters, the police officers, the FBI, the CIA, the military. We're just watching these young Navy SEALs; I mean there's a phenomenal group of people out there really dedicated to protecting us. I think it's gotten more difficult for them because it's the terrorists, the sickness of these folks that want to take us down has grown, I think, over these past 9 years." - From an interview on NBC 4 New York, May 3, 2011
ANTHONY WILLIAMS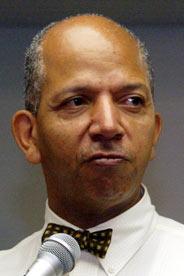 Then: Mayor of Washington, D.C. "I've decided that we must build upon this . . . not only to improve building security, fire suppression. We must work to keep a fire burning in us to improve this city, this world, for all the children that are still with us." - From an address at National City Christian Church, Sept. 13, 2001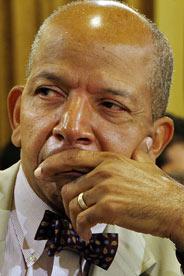 Now: Executive Director of Government Practice at Corporate Executive Board Company "I think it was a horrible thing because it undermined what I call the public realm and I think the, most grievously, it undermined the public realm because of the loss of those children on the plane. So, if you think about the public realm, our greatest responsibility to the public realm is to leave things better for our children. You know, if your children are dying on a plane, that's a horrible attack on the public realm. So that's how I would capture it. I think the city is better off in the sense that I think there's been a renewed commitment by all quarters and all different perspectives and groups in aiding children. But I think we're worse off in a way because since September 11, we've lost some of our public space. I mean, streets have been closed, buildings have been further barricaded off, a further loss of our privacy – you know, that's the cost that we've paid. So I think that it's been, you know, a plus and a minus." - In a phone interview with the Simpson Fellows at American University, Apr. 26, 2011
SHEIKH HAMZA YUSUF
Then: Influential American-Muslim Leader; Islamic Scholar, Co-Founder of Zaytuna College "Religious zealots of any creed are defeated people who lash out in desperation, and they often do horrific things. And if these people who committed murder on September 11 indeed are Arabs, Muslims, they're obviously very sick people and I can't even look at it in religious terms. It's politics, tragic politics. There's no Islamic justification for any of it. … You can't kill innocent people. There's no Islamic declaration of war against the United States." - Sheikh Hamza Yusuf, as reported in the San Jose Mercury News, Sept. 15, 2001
Now: Chairman of the Board of Trustees of Zaytuna College "In the immediate aftermath of the attack on the U.S. ten years ago, I was catapulted into a position of spokesperson for a community. My history of criticizing American foreign policy complicated matters for me, given the almost inquisitional environment that began to arise in the U.S. since then. Some have attempted to present any criticisms Muslims make of U.S. policies overseas as evidence for their sympathies with the terrorists. Nothing could be further from the truth. While many Muslims are profoundly troubled by the situation in Iraq, Afghanistan, Palestine, and other places where Muslims have felt the brunt of brute force, almost all are disgusted to see the devastation unjustly wrought in Islam's name as a response. Richard Scheinin's interview of me in the aftermath of 9-11, which appeared in the San Jose Mercury, still very much reflects my sentiments about the event. I think the entire piece, which covered a page of the Mercury and was quoted extensively throughout the world, still holds up today. I believe it is the view of most Muslims worldwide and reflects well the authoritative Islamic legal opinion. The Prophet Muhammad set down rules of engagement. Sven Lindqvist points out that the earliest humane rules related to warfare are to be found in Abu Hanifa's formulations in the 7th century. Lindqvist writes: 'It was Abu Hanifa, a leading legal expert of Persian origin, the founder of a school of law in Baghdad, who first forbade the killing of women, children, the elderly, the sick, monks and other non-combatants. He also condemned rape and the killing of captives.… A legal expert in Baghdad, [he] attempted to make war more humane by setting forth rules that were not accepted in Europe until several centuries later—rules that were still not accepted, in any case not practiced, when colored people were involved.' [Sven Lindqvist, A History of Bombing (New York: The New Press, 2000), 9.] In fact, it was Abu Hanifa who first codified these rules in a legal system, but all of the rules were taken from injunctions given by the Prophet Muhammad himself." - Statement to the Simpson Fellows, May 7, 2011