Students' Photos Appear on WTOP

School of Communication students took photos on election day, some appeared on WTOP's online photo gallery.
STUDENTS' ELECTION DAY WORK

Graduate student's best exit poll interviews were packaged by The Virginian-Pilot.
Election Coverage: First Person
"I never, ever, in my wildest dreams imagined I would be covering [the election] as a reporter for The Washington Post."
Election Night: Rachel Jacobs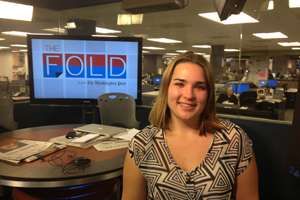 Student Rachel Jacobs on election night at The Washington Post. The Fold did live news coverage at the top of every hour. From 7 p.m. to around 2 a.m. Jacobs created a majority of the graphics and helped the TD with prepping them to air.