Shaping Political Thought
Whether you want to be a communications director on a presidential campaign, a media consultant devising national grassroots outreach, or a leading public affairs strategist guiding your client through a crisis, our master's in Political Communication is for you. 
This MA program combines expertise and scholarship from the School of Communication and the School of Public Affairs to lay down a thorough grounding in political science, strategic communication, research, and media. The interdisciplinary degree prepares you to navigate the changing landscape of politics and communication—our students gain the knowledge, skills, and ethical grounding to be successful as political leaders, policy-makers, communication professionals, and campaign executives. 
Taught by today's leading political communication practitioners and theorists, you'll take hands-on courses in applied politics and communication skills over a broad range of media and production topics that will introduce you to news writing, persuasive writing, public opinion research, online advocacy, and campaign management. For this 36-credit degree, students can choose courses from a variety of areas including speechwriting, social media strategy and tactics, research for communication, and political advertising, as well as classes in AU's Women & Politics Institute, Campaign Management Institute, and Public Affairs and Advocacy Institute. Some courses for this degree are even available online! 
If you're seeking to build a strong background in research skills, a broad knowledge of political issues, a deep understanding of how the political process and media work, and the expertise necessary to create, shape, and manage political communication, you'll find what you're looking for in AU's MA in Political Communication.

Demonstrate Your Commitment and Interest
The Political Communication master's program can be undertaken part-time or full-time, and admission is open for both the fall and spring semesters.
You may apply either through the School of Communication or the School of Public Affairs. Applications are reviewed jointly by both schools, and both need to agree on student admission.
The School of Communication operates on a rolling admissions basis for our graduate programs. Applications are reviewed on an ongoing basis until programs reach capacity.

While previous academic or professional work in the field is not required, you'll need to demonstrate a serious commitment to a career in this field. Your essay on your reasons for pursuing graduate study in the program will be essential, along with the other required application materials.
Faculty Research Fuels Innovation
The School of Communication's world-class faculty members' excellence in the classroom, achievements in their respective fields, and deep commitment to personalized mentorship have helped launch thousands of rewarding careers in the government, for-profit, and nonprofit sectors.
Their cutting-edge research activities and professional engagements play key roles in national and global policy development.
Faculty fields of study encompass political and strategic communication, intercultural and global communication, public speaking and political speechwriting, public and media relations, political and public opinion research, social change campaigns and digital media studies, broadcast news and media production, and public diplomacy and race relations, among many other areas. Specific research areas have included how Internet politics can improve civic engagement; the impact of new media technologies on advocacy, activism, and political communication; and how media, public relations, and society intersect.
Our faculty actively help you shape our world in positive ways. You'll engage in meaningful work with a profound impact as you strive to expand the constructive power of communication and media.
Merit and Need-Based Aid
The MA in Political Communication is a 36 credit program. To estimate the cost of tuition, please see the current cost per credit hour for graduate students.
The School of Communication offers graduate students both merit-based and need-based financial aid. Merit awards, named scholarships, and fellowships are administered by the SOC Graduate Admissions Office, while need-based awards are administered by the American University Office of Financial Aid. Several prestigious graduate fellowships are also available for students in the Political Communication program. Additional financial support is available for veterans.
All merit awards are based on your academic merit and professional experience, specifically your undergraduate grades and leadership activities as well as career-related accomplishments. Merit awards are valid for one year-they vary in amount, are typically divided evenly between the fall and spring semesters, and are not typically renewable.
Some merit awards come in the form of graduate assistantships, which consist of graduate tuition remission, a stipend, or both. Tuition remission will vary in the number of credits offered. If you are offered a stipend, you must employed as a graduate assistant for a School of Communication faculty member for 10 hours per week.
Graduate Fellowships for Political Communication
The School of Communication offers prestigious merit-based fellowships in partnership with leading Washington, DC-based media organizations. These fellowships provide varying amounts of tuition remission and stipend. Separate applications are required. The following fellowship is available to Political Communications master's candidates:
James B. Simpson Fellowship
Endowed by the late Rev. James B. Simpson, author of Simpson's Contemporary Quotations, the Simpson Fellows conduct projects related to the collection, archiving, and publication of notable quotations as specified in the fund. The recipients are required to entitle any published research: Simpson's Contemporary Quotations: Notable Quotes Since 1950. The fellows report directly to and work under the guidance of the Director of the MA in Political Communication.
Research fellowships at academic centers within the School of Communication and throughout the university may also be available.
Unless indicated, students may not accept both a graduate assistantship and a graduate fellowship.
Political Communication Faculty Include:
Molly O' Rourke, who has more than 15 years of experience in the field of public opinion research, worked on Capitol Hill, for EMILY's List, the women's political action committee and more.

Leonard Steinhorn, who is the founding editor of PunditWire and has served as a political analyst for CBS News since 2012.


Candice Nelson, who is the Academic Director of the Campaign Management Institute and studies voting behavior, campaign finance, and campaign finance reform.
MA in Political Communication Video
3:35
Political Communication at American University.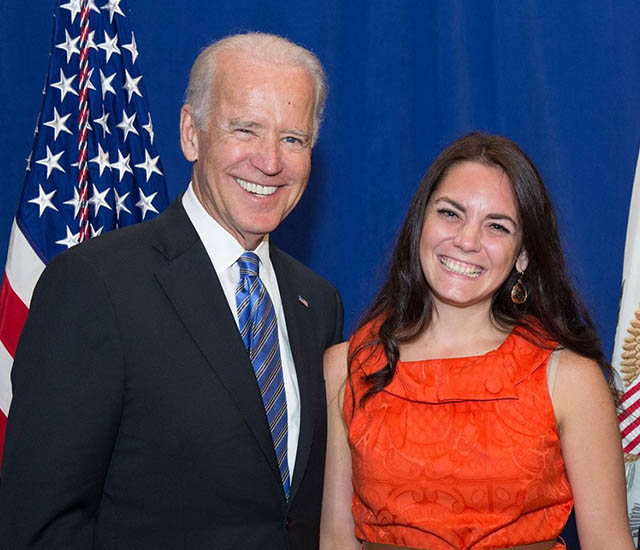 Taylor Prochnow, SOC/MA '18
I wanted to be in this kind of classroom having these kinds of debates.
As a full-time student who also holds a full-time job in crisis communication and PR, Taylor Prochnow appreciates the emphasis on quantitative analysis in the Political Communication master's program. She can apply her studies directly to her work, tackling problems she sees and changes she wants to make. Conversations with her professors about the 2016 election kept her optimistic about politics, and she could analyze the election data scientifically and study messaging and follow-through; contextualizing in a constructive way.
Frequently Asked Questions
The MA in Political Communication is offered jointly by the School of Communication and the School of Public Affairs. You may apply through either school—applications are reviewed jointly by both schools, and both need to agree on student admission. The School of Communication operates on a rolling admissions basis for our graduate programs. Applications are reviewed on an ongoing basis until programs reach capacity. 
This interdisciplinary MA program allows students to take courses in both the School of Communication and the School of Public Affairs, offering you a unique opportunity to prepare for a professional career in government, politics, political advocacy, public affairs, public policy, and communication through the study of political and communication theory, research, and practice.